INTERVIEW: Big Bad Voodoo Daddy
An interview with Kurt Sodergren, drums & percussion
By: Alex Steininger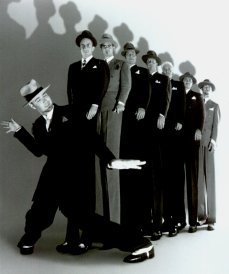 Alex: Besides swing, what other musical styles helped shape your sound?

Kurt: I grew up with swing, then punk came along in the 80's, and I was into that. I was also into blues and Hendrix. Stuff like that. I was, and am, into a lot of stuff. We actually started out as a trio playing punk, but we eventually started adding people and we evolved into what we are today. We're swing, but our punk backgrounds definitely has a big influence on us. Listening to us, I feel we play with a lot of punk energy. We're 90's swing.

Alex: What are your band goals for 1998?

Kurt: We are concentrating on touring. We are also writing new songs for another album, which should be out the first of the year.

Alex: On the road, what do you do for fun?

Kurt: We ride in a fourteen passenger van, and just drive from city to city. There isn't a lot of time to do stuff, but we do listen to music while we're driving from city to city. We also do our laundry, and watch movies when we can. Playing basketball is also something we like to do. But basically we just drive from city to city and listen to music. And right now we've been listening to the new Aquabats CD a lot. It's great.

Alex: Do you have a favorite city or venue to play, and if so, why is it your favorite?

Kurt: The Supper club in New York is great. They have a great sound system and stage. New Orleans is always fun, especially the House of Blues. But we don't really have a favorite city, we just love to play live.

Alex: If you could tour with anyone, who would it be and why?

Kurt: That's a good question...wow! We've played with the Aquabats before, and that's fun. They're great guys. We've done a few festivals with them, and the Foo Fighters played too, and they are great.

Alex: So, you're open to playing with anyone?

Kurt: Yeah, we love to play with anyone regardless of musical style.

Alex: Is there any road experience that stands out in your mind? Whether it be good or bad.

Kurt: Sorry, it's kind of early. We just got up and I can't think. There was a good experience we had in Iowa City. We played this club, and they had this bar upstairs, so after the show we all went up there and started having fun. I mean, everyone from the show was up there and we were just having a great time. We broke some tables dancing on them, and finally around 3am we got kicked out. We always stay after the shows until we get kicked out and hang out with the fans. As for a bad experience, one time we broke down on I-5. There aren't too many bad experiences, so I'd have to say whenever we brake down that's the worst. We're very lucky.

Alex: What do you enjoy and hate about the music industry?

Kurt: Coolsville gives us complete creative control, and EMI can distribute us and get us everywhere. It's a lot easier to get into shops now compared to when we were on our own label. As for a down side, the exploitation of swing may burn it out too soon. We've played with a lot of swing bands, yet the media only covers a few of them. Squirrel Nut Zippers and Cherry Poppin' Daddies are the only ones on the radio, but there are so many more bands out there. Swing's been here longer than the media lets on. I also hate clubs that pack in the people and leave no room for people to dance.

Alex: Much like La Luna in Portland, Oregon. But the Crystal Ballroom is great. You have all the room in the world to dance.

Kurt: Yeah, we played La Luna Sunday [June 7th] and it was packed. We didn't see much dancing, so I'd have to agree with you. But last time we were in Portland we played the Crystal Ballroom and had a blast. Everyone was dancing, and I love the springboard floor. I was out there having fun too. It's a great place, but we kind of got screwed over and agreed never to play there again.

Alex: How'd you get screwed over?

Kurt: Well, we were guaranteed a bonus for a sell-out crowd, and the place was packed. You could tell it was a sell-out crowd, but they refused to recognize that and said that there was still a lot of tickets that didn't get sold. So we lost out on some money and just decided if they want to screw us over we'll never play there again.

Alex: Understood. So, if you could change anything as a band, would you?

Kurt: No, it's weird. The evolution in the band has been natural. Scott, myself, and another bass player started everything off. The bass player didn't work personality wise, but was a damn good singer, so we went and got Dirk. We then added horns for a Dixieland sound. We then had to change trumpet players, because the one at the time had a family and wouldn't go on the road. After all that we started playing the Derby for two years. We cut our teeth there. All the growth was natural, it felt as if we were born into it. As far as choices go, we've never had to make any significant ones that greatly affect the band. We waited for Coolsville and Brad Bennett to sign us and work with us, and they've been great. That was a great choice, signing with them. The only bad choice we've made, that I can think of, would be playing La Luna. Now that I think of it, I wish we'd of played the Crystal Ballroom.

Alex: What made you want to be in a band?

Kurt: When I was young and started to see punk rock -- X & The Blasters -- mainly. I enjoyed the live experience and wanted to do it. When I graduated college I started to pay the drums. I mean, I had tried before but never set aside enough time to learn. So after I graduated college I sat down and said, "OK, this is your present. You're going to learn to drum." Then in 89 I met Scott. We both loved Stevie Ray Vaughn and Hendrix. It moved us, so we decided to start a band.

Alex: What goes into good music making for you?

Kurt: For me, it's original music. Scott comes in and writes all the music, and we'll arrange it. For me, it's hearing a song and making it seem new. We want to take swing into a raw direction. We don't want to re-hash cover songs, we want to create music that the listener can hear and see how new and fresh it sounds.

Alex: What inspires you guys to write songs? Life?

Kurt: Yeah, definitely. Our last album was about love and fun, due to all the depression alternative music was spreading. But now, personal stuff is creeping into the new stuff. Everyone's little experiences help. Like Scott's guitar. It's swingin', yet rough and hard. It helps reflect what is going on in his life, etc. That's the same way with everyone. The trumpets are like that too.

Alex: What do you want the listener to get out of the music?

Kurt: I want them to have the time of their lives. We get all different groups at our shows. We get the all-ages crowd, the college kids, and parents. We get the 30 something crowd that forgot what live acts were all about. Once a month, or so, they'll go to a show, and if they come to our show we want to rock their world. We're selfish, we get energy off of seeing people having a great time at our show.

Alex: Do style and music go hand-in-hand, or do you wear the suits for fun?

Kurt: I think they go hand in hand. We only wear vintage suits when we play music. In the van, I wear Sol's, a T-Shirt, and boots. But when I go out, I wear rockin' clothes. Out of the van we're not dressed to the nines, but when we get on stage we go all out.

Alex: Why the resurgence in swing as of late?

Kurt: Men and women love to dance together. It's a matting ritual. Dressing up is also fun, and so are swing lessons. The lessons take awhile to be great, but the basics can be learned after just one lesson. I mean, you're not going to be swingin' females over you and stuff after one lesson, that takes a really long time, but you'll have a solid foundation to build on.

Alex: How has your deal with EMI-Capitol benefited you guys, and do you see any draw backs to your current contract?

Kurt: Everything that has come out of the contract has been great things. The first time we went into the studio for EMI it was to record a track for a compilation. But while we were there it just kept going and going, and we ended up doing a full-length. We went into Jumpin' Jack Studio, the same studio where Sinatra recorded. It blew us away. The Vice-President of the record label studied old photos of Sinatra and stuff, and got our mics in the same position that they used. It was fantastic. So, everything that has come out of the deal has been positive.

Alex: How does your new album compare to your last one, and how is it different?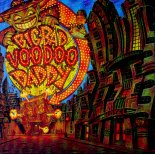 Kurt: In 1994 we were really, really fresh. The band, with horn section and everything, was only six months old. We went into the studio and captured what we were doing at the time. It was like 'Gorilla Swing.' We captured all the magic. But we've grown since then. Looking back, we were not as good as we are now. We've now got three extra players, and the arrangements are different with four horns. . .not just two. We are definitely more mature now, as well. Our new album captures what we are doing now.
Alex: Do you have a favorite song on the new album, and if so, which one?
Kurt: Yes, "Mr. Pinstripe Suit." I love playing that one live. I also like "Please Baby."
Alex: Do you want people to see Big Bad Voodoo Daddy as a great band on disc, a great live band, or a combination of the two?
Kurt: Come see us live! We want to give them more live than the CD can give them. We want them to come to the show and just be blown away, even though they have the CD. Then after the show, come and talk to us. Don't forget to talk to us! After we dry off, we always come out and talk to the fans. Then we have fun until we get kicked out. So, definitely, we give them a lot more live than the CD can.
Alex: Anything I left out that you would like to cover?
Kurt: I just want to remind everyone of what I said before. Come see us live! Make your decisions about the band when you see us live. Just come out and see us live, make your decision, and then stay after the show and have fun with us.