The Skalars: Traditional Ska and Rock Steady
By: Alex Steininger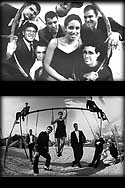 Ethan D'Ercole was just a lonely college freshman entering 1993. Wanting to take his love of music to the next step, and create his own, he started thinking up ways he could achieve this.

Discussing it over with his "musically opinionated" friend Isaac Green, they decided that they wanted to take their thoughts and turn them into reality. Although Isaac Green didn't play any instruments, he was good for ideas and the occasional shouts throughout the songs. He also prided himself on his dancing. With Ethan on guitar, and Isaac doing his thing, they still needed members.

Meeting up with Willie Horton, on bass, they decided to get together and work practice a bit. Out of this practice, which took place in a dormitory basement, came their first song, "The Row."

Eventually adding a drummer and an alto sax player, The Skalars were now existent. A happy-go-lucky little college ska band, they played out for friends and parties, with only fun on their minds. No aspirations, and no thoughts that the band could actually lead to a full-time job, they treated it as such. Their music needed a lot of work, but they were having a lot of fun doing it.

Then came the inevitable summer of 1994. All musicians must start somewhere and, for the most part, their first band usually goes the way of the dinosaur. Losing their sax player and their drummer, it looked as if The Skalars were heading down the drain as well.

Refusing to give up, and with a new name, Isaac Green and the Skalars auditioned eleven singers before deciding on Jessica Butler, who also contributes alto sax to the band. Recruiting new players as well, they were now poised to re-direct themselves.

Where in the past they concentrated their energy on having fun, this time around they concentrated their energy on writing solid ska/rocksteady numbers. Cutting out a lot of the "fun-but-not-really-very-good elements," they soon found themselves more focused, and as a result, the material was sounding a lot better.

Practicing and spending nearly nine months honing their sound, their debut release saw the light of day in the Spring of 1995. The STRIKEOUT SUMMER 7", originally self-released, was soon picked up by Kansas' JoCo Ska Records.

Now things were finally moving for the band. Come March 1995, they were offered a week long tour of the Midwest with the Pietasters. Things were really looking up for the band.

Landing a spot on Moon Ska's "Spawn of Skarmageddon" compilation, which dedicates itself to showcasing the latest in young ska bands across the country, Moon Ska enjoyed the track so much they signed the band for a full-length.

As with many bands, Isaac Green and the Skalars went through their fair-share of line-up changes. With a final line-up in place, they went in to record their debut CD. Jessica Butler and Evan Shaw handled the vocals, creating a very nice female/male duet, which helped distinguish them even more. Jessica was also the alto sax player for the band, while Evan helped round out the horn section with his mighty trombone. Jason Brody handled the farfisa, and Dave Sharma was on the drums. Of course, the three core members were still there. Willie on bass, Ethan on guitar, and Isaac handling all the bands' booking, management, and contributing shouts and dancing throughout their live shows.

SKOOLIN' WITH SKALARS, their debut disc, was released in 1997. An excellent album, it gets you dancing from the first beat until the last. But ska and rocksteady aren't the only influences the band lets breathe. Incorporating the feel of good old 50's and 60's pop, they let it show on the disc. The outcome is a traditional record that not only gets you dancing with deep, groovy vibes, it is also so listener-friendly you won't even blink before you quickly open your mouth and begin singing along.
Touring non-stop to promote the album, they landed opening slots for some of the founding fathers of ska, as well as some of the most respected bands leading the current ska-resurgence. On top of that, they headed out on their own and did headlining gigs across the country.
Even making a video for their first single, "High School," they garnished heavy rotation on M2. You could occasionally also find them on MTV's 120 MINUTES program.
Promoting their hearts out, even while SKOOLIN' was still selling quite well, they began working on new material. Then came the big bomb drop. Isaac Green wanted to take an office job in New York and manage the band, rather than touring with them and adding his shouts and dance to their live show. Taking a bit of time off to think things through, the band decided to once again go under the moniker "The Skalars."
Not one to take too much time off, they once again hit the road and continued to promote their debut disc, while writing and recording material for their forthcoming album, which will also be on Moon Ska.
Their latest release is a five-song demo CD, including a re-recorded version of "Strikeout Summer." Also included is a track by the name of "Box Of Death," which has been a live staple for nearly a year now. Documenting a tour horror story in which their van broke down and they finished the rest of the tour in the back of a U-Haul truck, they make the experience danceable and fun for the listener, almost as if they are looking back and laughing at the incident.
Showcasing a band that is tighter than on their debut, they expand on their dance-ability, as well as their infectious nature. All the songs keep their soothing traditional feel, but at the same time slip a bit more pop into the picture. Still far from a pop-ska band, you get the best of both worlds. You can bounce and sing along as you would with a pop-ska band, but you can also get those romantic dances going that you are so accustomed to with your traditional discs.
With a new album due out in the fall, you can't help but wonder if the Skalars will be the next ska band to make it big. With a sound that is very tight, and even more enjoyable, keeping your eyes on this band could be a very choice decision.