INTERVIEW: Tazy Phyllipz
Interview with the host of California's THE SKA PARADE
By: Alex Steininger



Interning at KROQ, Tazy was instrumental in breaking Sublime's "Date Rape." Now with his own radio show, The Ska Parade, he has been a key factor in bringing Southern California's ska scene into the limelight, making it possible for such bands as Reel Big Fish and Save Ferris to garnish MTV attention and major radio play.

TAZY ON HOW HE GOT INTO SKA MUSIC:

I got into ska when I was in jr. high. I was into all types of different alternative music, and ska was one of them. Of course, I didn't know it was ska music back then. Two bands that really struck me were the English Beat and Madness. You know, I had no clue what ska music was but I loved what these guys were doing.

The two big bands that heavily influenced me were Fishbone and the Descendents, who aren't ska. Other bands I really loved were the Untouchables, the Uptones, it went in cycles. Operation Ivy was a huge influence, as was jazz. I went through a really heavy jazz phase. It got to the point where I wouldn't even go and see any bands unless they were jazz. I was heavily into jazz.

I got permission to video tape a concert to watch at home. I went to the gig, which was at the River Theater, and was introduced to all these bands. There was the Dance Hall Crashers, who were an Operation Ivy off shoot, and there was Let's Go Bowling, who was a jazz off shoot. All-of-a-sudden I was hearing ska music, and it was heavily influenced by jazz. There was this dance type music that these guys were playing, and jazz had a major role in forming it. The New York Citizens headlined that show, and afterwards I got to interview them. So, pretty soon Bad Manners was coming to town, and my brother Albino bet me a weeks worth of chores that I couldn't interview a band. A new band called Skankin' Pickle opened the show, and nobody was dancing. So, afterwards I got to interview them. So this time the Untouchables were coming to town, so he bet me double or nothing I couldn't pull it off again. Skankin' Pickle also played this show, and this time three people danced to them. Well, anyway, I did it again and hooked up with the Untouchables to interview them.

TAZY ON HOW THE SKA PARADE CAME INTO FORMATION:

Back in 1989 we did a documentary video on the 'third-wave' of ska. This was the first time this term had ever been used. We basically launched a new wave of ska with this documentary. Thirty two to thirty three bands participated. Some of the bands were: Better Than Nothing, Crucial D.B.C., Operation Ivy, Gang Busters, No Doubt, the Skeletones, The Specs, Donkey Show, The Upbeat, Bob Harvey, Gangster Fun, Panic, Public Service, Skinnerbox, and the Toasters to name a few. Operation Ivy's last interview was on this documentary. They broke up right after it. Besides this compilation, the only other thing that was going on as far as an organized ska community was the MASHIN' IT UP ska compilations. The documentary has live footage, interviews...basically a little bit of everything.

The Ska Parade radio show actually launched November 15th, 1989. It was KUCI's 2nd anniversary week, and our show was the 2nd most listened to show in the station's history. By next January we had gotten a weekly time slot. My brother kept pushing for live bands to play our show, and remember that little band nobody danced too? Skankin' Pickle was the first band we had on the show. Jump With Joey was second, and after that we had Roland Alphonso trading licks with a member of Let's Go Bowling.

As for our first interview, that was No Doubt, I think. I don't really remember.

Two weeks ago we just celebrated our 200th episode. We're now facing syndication, so we can bring our show to many more people. But in the past, we weren't that big. KUCI went from 25 watts to 200 watts, so they're not that big at all. But the big thing about our show was we had so much influence. If you played our show, good things would happen. Our radio show is similar to the John Peel show. He was a comedian, and a radio host. He would debut the best of the best in alternative bands. Any band who was anybody would play his show. He broke all the new bands. He broke such bands as Echo and the Bunnymen, Madness, and the Depeche Mode. Another thing that was so great about him, he would record exclusive live tracks of the bands that played his show. They were called the PEEL SESSIONS. I mean, he had everybody play his show. Even Eric Clapton played his show. The show didn't have any particular style of music it would play, he would play anything that was good. His show was a celebration of groovin' bands and music. He debuted both the best of the best and the up and coming bands. That's what we try to make our show like. We don't want to play only ska music, we'll play any music that is good. Our show is a celebration of music, whether it be swing, punk, or ska. And for me, that's the exciting thing about radio. We just get to play and celebrate good music.

Two years ago, if you would have told me that the Descendents and Fishbone, my two favorite bands, would be playing my radio show I would have told you that you were crazy.

After we were growing, X103.9 offered us a slot on their station. So we brought the show to them, and for the past year and a half we've been doing it with them as well as KUCI. We are now the highest rated show. Our show doesn't interfere with KUCI, or any big alternative radio stations, but we reach a larger audience that way. But, we have lots of fans who regularly tape our show. I mean, I've come across people with 30 of our shows on tape. How many radio shows have fans who tape their shows religiously?

It's been an exciting ride so far. We gotten new music out to the public, and it's grown beyond my wildest dreams. We went from a little known college radio show to breaking new bands. It's all pretty amazing.

TAZY ON A TO Y PRODUCTIONS: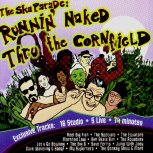 A to Y Productions just released a new CD entitled RUNNIN' NAKED THROUGH THE CORNFIELD. It celebrates our favorite bands. I'm a HUGE Suburban Rhythm fan. I love them. We also got an Equators track. It's got a lot of 2-Tone stuff on it.
We knew if we picked key bands with some choice songs that we would have a great compilation. We had bands do exclusive studio tracks. We had them in the studio and exclusively produced the song.
I've got a good story to tell. While we were recording the songs for RUNNIN' NAKED, Aaron Barrett from Reel Big Fish came in with a cassette of the first time Suburban Rhythm was on the show. We had No Doubt on the show a lot, and they would kick of dick me around. They'd tell me they wouldn't play the show unless I booked Suburban Rhythm. So we booked them. That's where the sample comes from on Reel Big Fish's track. It's actually from Aaron's personal copy of the show. Not a copy I gave him, or a copy we had on hand, but his own personal copy.
We try and raise the standards, and not keep them the same. Keeping everything the same derails the genre in the over ground. The difference between now and then is that back then there was only a handful of bands. Two-tone was mostly about singles, and now ska bands are selling over a million copies of full-lengths. The way I see it, ska's akin to the way they developed the rap genre of music. They kept saying it was a fad, but it's not. It's a legitimate form of music. Ska is the same way. This time around, though, it is showing its commercial viability. I mean, sure, there is scrape (ska-crap) out there. There are bands jumping on the band wagons. But most have good intentions. There are a few that want the money, too though.
Another difference is there are few people trying to raise the standards. It's the classic story with the Equators. They influenced the English Beat. When the Equators broke up, their management team hooked up with English Beat. Two tone was about racial mix, yet the Equators never got big. They were an all black band. Then there was Madness, who was all white. They got big. The problem was, Stiff Records marketed the Equators as reggae, and not ska. They should have marketed them as ska. Now they are a lost gem..
Once they broke up, they all went their separate ways. But since my brother and I were such big fans of them, he was determined to find out what happened to them. He wrote twenty five letters to see where they were at. He finally got in contact with someone who told him that, "the one thing that holds up over time is the money trail." So he went to the publishing company that published the rights to the music. He got a call through the Bailey brothers, and soon became friends with them.
The compilation was already a tribute to them, even before he found out what had happened to them. We got some tracks from them, and now we have them back in the studio recording a full-length. We're actually laying down rhythm tracks as we speak.
It's not the original line-up, but it is the Bailey Brothers, who were the main musicians for the Equators, mixed with the Donkey Show. Two classic bands in one!
Besides the new RUNNIN' NAKED comp., other new stuff coming from A to Y Productions is full-lengths from both Donkey Show and Equators. They should be out by the fall.
Some other ideas we're considering is a 'best of the Ska Parade: Live,' kind of like the Peel Sessions. We were thinking of it being mostly one band. We're working on the idea right now.
We also want to become a full-fledged label. Well, I guess we are already one since we have released stuff, but we want to release more stuff in the future and start concentrating on the label a lot more. You know, have actual touring bands and stuff.
TAZY ON MANAGING BANDS:
I've been asked that a lot, but my brother would be better at that. My contribution is to the radio. Although, some bands I take under my wing and help out. Bands that have no money for studio time, I'll find a way to get them into the studio. If they need a manager, I will get them one. Some bands are like, "Thank you, bye!" but most are very grateful for all the help I provide.
TAZY ON THE UP AND COMING BANDS:
I always encourage up and coming bands to send us their demos and CD's. There is a new crop of bands, and I'm keeping my eyes on them. We now have the luxury of picking and choosing bands to be on our show, which is nice, but we're always looking for new bands to break. I keep an open ear, and even if I don't dig the music, I'll listen to it. So send the demo or CD to me, because I keep an archive. Also, if they suck to my ears, I don't write them off. I've seen some bands that I hated and over time they honed their skills and then, BAM! they were good. I've seen it time and time again.
For example, the first time I saw Skankin' Pickle I thought they were horrible. But two years later, with the same musicians and the same songs, they got good. Another one I mention a lot is Reel Big Fish. I used to hate them with a passion. I totally disliked them. But over time they developed and got good. Some other ones are Voodoo Glow Skulls and Freakdaddy. They were a No Doubt clone that wasn't very good, but now they're incredible.
Then there are bands that are good from the start. No Doubt was one of them, and Portland's Franceska is another one.
I just want all the bands to remember, I listen to everything people send me. I love it when bands develop and grow. It's all the jazz philosophy I've learned. Send me those demos, I'll listen to them. If I don't like it, I'll archive it. Then a few years later, or even a few months later, I may really dig the sound. I've seen it time and time again.