REVIEW OF THE CLASSICS
Michael Jackson's THRILLER (1982 EPIC Records/Quincy Jones/MJJ Productions)
By: Brian Barry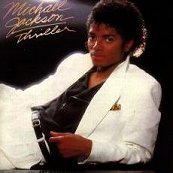 Gotta be startin' somethin' baby. Too high to get over, too low to get under. You're a vegetable. You're a vegetabuuule. Ma ma se, ma ma sa , ma ma coo sa. Let me just begin by saying if it weren't for Paulinho da Costa, this song would never have made the impact it did. The scratchy itch of his high hat hypnotizes the hips. Ladies and Gentlemen, let us twiddle our thumbs and await some sort of innovation in the rock world. I'll be twiddling away until something substantial comes my way. Perhaps "Babe the Blue Ox" will have their new album released while I'm in South Africa. Until then, I'll continue to rifle through my old albums and choose which ones I think were pretty cool (or in this case pretty funny) additions to the pop/rock genre in the last 25 years.

Now, let me put down on record (for those of you reading this) that "Baby be Mine" is hands down the King of Pop's best pop vocal tracks. Why? Hell, I don't know. Hold on, let me pop the CD back in. Well, it's obvious folks, he's raw, check out his harmonies at the end of the 2nd verse and the beginning of the 3rd. Perfect poppy Mikey. Listen to him when he sings the actual lyric, "Baby be mine". You'll get the picture. Oh no, here comes "The Girl is Mine". This song made me smile when I was 8, but what the hell is this? "The Dog-gone girl is mine". Sorry folks, I need more balls in my playpen. The song is corny, no it's corny, no it's corny. Don't waste your time, the doggone song is corny.

Booooooooooo!. Here comes that eerie synth man! Scare ya? Thriller. I hated it then, I hate it right now, it makes my wine taste worse and screw Vincent Price, he did a horrible portrayal of Egghead in the 60's Batman Series and he's never made me feel the heebie-jeebies (although I can't say the same thing for my friend's little brother, he was afraid of Vince, Micheal, and the "Rar-Rar's" for some time after that video was put out). I liked Micheal's shiny black suit and white glove for Beat it, it's definitely a classic, but I always set the vcr when Weird Al's version came on. "Billie Jean" has a killer heart pumping rhythm. You know exactly what song it is the minute the first kick drum hits your ear. Ladies and Gentlemen, Paulinho da Costa. Long live David Williams and that funky 4 second guitar scratch! Long Live Bill Wolfer and his hidden synth! "And the chair is not my son"!???

Looking out, across the nighttime, I find myself loving Micheal Jackson the moment "Human Nature" comes on. And if you say, "Why?, why?" I'll tell you that I want that song to come on when I meet my lover's eyes from across a crowded restaurant. I want that song in every movie soundtrack. I want that song on the radio when I'm driving into the blue sky at 83 mph with nothing but sand and brush to the left and right and my heart on the hood ornament. And you know what? Paulinho da Costa on drums. It doesn't get any better than this folks. PYT PYT PYT PYT. Gotta bite your bottom lip and snake your body to beat slow baby, slow slow slow. James Ingram on back up folks. James Ingram is in great shape, have you seen him on Sinbad's Aruba Funk Fest? Can ya woo woo woo? Every breathing woman in that audience could James. Back to Michael- PYT is the perfect song to put on a sex comp. Throw on some jazz, make some love, on comes PYT and laughter enters your sex life (well, laughter may already be there for some of you)."The Lady in my Life" cannot be listened to correctly without gazing at the front cover of the album during the entire song.

Well, folks, that is my quicker than quick recap on Michael Jackson's Thriller. Nothing I can say will make it better, but hopefully some sap in Maine will read this, go out and pay $4.99 on a used Thriller, and change his somewhat horrible Mainean life. Do you know that everyone in Maine is either deformed, mentally deranged, or 400lbs? Don't get me started. Oh, and Ladies and Gentlemen, Mike may have some problems, but let's take a listen to the reasons we know him in the first place and remember, there was a time in his career when we would have won a global presidential election. His fans hit the billions in population. The non-Jacksonians would definitely be a third world action. Remember this campers, the former head of the FCC is a long standing member of NAMBLA (North American Man-Boy Love Association), Kathie Lee Gifford has impoverished children creating her clothes, Hulk Hogan is bad now, the whole world we had come to trust is crumbling! Free Mandela! Where the hell am I going with this? Hell, I need a refill. I'll probably look at this article on the web tommorrow morning and shake my head repeating "Why" to myself. Why? It's human nature.