VARIOUS ARTISTS: Dim View of the Future
A Collection of New American Gothic (Hollows Hill Sound Recordings)
By: Alex Steininger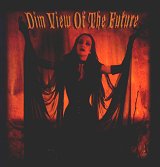 Combining fourteen tracks of gothic rock, featuring bands all over the U.S., Hollows Hill Sound Recordings has decided to share their world with everyone else. Including some of their own recording artists, namely Gitane Demone and the late Rozz Williams' Shadow Project, they also decided to include other artists to help strengthen up the line-up.

Despite all their efforts, however, most of the songs on this compilation are sleepers. Repetitive in nature, and reminiscent of a horrible dream that keeps repeating, the songs keep spinning even when you don't want them too.

Take Symphony of Terror's opening track, "Hamza Dies/Hotel D'Amore," which is very soft, spooky, and full of 'terror.' The music comes across as cheap backing music for a haunted house on Halloween. Especially with "Hotel D'Amore" covering the ground it does, a hotel that serves as a death trap, which only strengthens the notion that this song would make a great song for a haunted place on Halloween.

The disc rolls on, but the music does not. It stays at a stand still for a very long time. Each track has it's own strong points, but with the soft, haunting nature of each song bleeding into the next, the theme and messages get stale and seem to fog up everything.

That is until the standout track pops on, instantly rejuvenating you. Needulhed's "Rajababa" is an industrial-gothic thriller that is able to latch onto the gothic audience while also appealing to the hard rock and industrial fans. Twisty vocals drive a screwdriver through your head, while the percussion injects your feet with signs of life. They'll tap to the beat, while the keyboards finish everything off with a zing. But don't forget the guitar and bass, both adding their fingerprints to the song with lemon-zest and a fresh wake-up call.

Unfortunately, the rest of the tracks soon creep back into the standard mold that seems to be fluent throughout this compilation. I don't know what it is, but each song seems to be heartless and purely driven by the need to scare and shock. Worthwhile in a sense, and sometimes at a high point, every song besides Needulhed's just doesn't seem to charge any emotions or feelings throughout my body. I'll give this compilation a D-.