INTERVIEW: Pete Miser (local hip-hop/rap artist -- former front man for Five Fingers of Funk)
By: Alex Steininger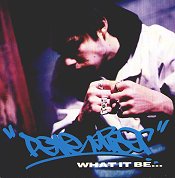 Pete Miser is one of the innovators of Portland, Oregon's hip-hop community. Interviewing him prior to his split with Five Fingers of Funk, we got the chance to talk about his forthcoming solo album, other Portland artists, and the state of hip-hop.

Alex: What are some of your musical influences?

Pete: I have millions! A lot of them don't directly influence my music though. I love Tribe Called Quest, Miles Davis, James Brown, and Bob Dylan. But a lot of my influences aren't necessarily from music. Writers influence me more on the lyrical side of things, not other rappers. James Broader is one of my favorites.

Alex: What are your band and solo goals for 1999?

Pete: Get a record deal!

Alex: Have you been in contact with any major labels?

Pete: Yes, we have. I don't want to name drop, because I'm very superstitious. But we've been talking to some labels, and hopefully something will pan out.

Alex: Any other goals?

Pete: I want to record another solo album, and have fun with it. Then I want to get Five Fingers of Funk signed, so they can be my bread and butter. My solo records are just for fun. I just want to make records, and if anyone buys them, they buy them. That's all there is too it. But Five Fingers of Funk is what I want to make a living with.

Alex: On the road, what do you do for fun?

Pete: Sleep. There isn't much time for fun. When we do have some time for fun, which isn't very often, I like to go snowboarding. But that doesn't happen very much.

Alex: Do you have a favorite venue or city to play?

Pete: I love to play Portland, of course. Venues like La Luna, Crystal Ballroom, and Berbati's are always fun. Other cities I like include Salt Lake City and San Francisco. We always have good shows down there.

Alex: If you could tour with anyone, who would it be and why?

Pete: Maceo Parker, again! I learned so much from his ass. We opened up for him last week at the Crystal Ballroom and it was great! It's gotten to the point where his booking agents know us, and will call us if they need an opening band. De La Soul, I'd love to tour with them. They're sic. Then there is always Fishbone, those cats are wild.

Alex: Is there any road experience that stands out in your mind?

Pete: Yeah, one time I had to hitchhike to a gig. We were traveling from Montana to Spokane. Our van broke down, and instead of jumping in the other one and heading to the gig with the band, I told them to go ahead. I decided to wait with the van for Triple A. So afterwards I had to hitchhike to the gig, which I did. I got there for the last song. Then there was another time when Bruce Willis came on stage and played Harmonica with us.

Alex: Bruce Willis? That had to be wild! How did that come about? Damn!

Pete: Well, he owned the club we were playing at down in California. It was pretty cool, but nothing super.

Alex: What do you enjoy and hate about the music industry?

Pete: I enjoy the fact that it enables an artist to make a living off their art. Or at least pay their rent, while allowing them to spend some time making art. The thing I don't like is the fact that money affects art. You can create some art that you love, but if the major labels don't think it'll make money, they'll make you go back into the studio to do it all over again. That is what I hate.

Alex: If you could change anything in your musical career, would you?

Pete: Sure, I'd want to make more money! Basically, I pay my rent, but barely. I live in a fucked up little shack. I don't have a car, and my friends who work in restaurants have more material things than I do. Being able to get off the bus would be nice.

Alex: What are the highest and lowest points you've experienced as a musician so far?

Pete: Maceo Parker saying our name on stage. Having him giving it up for us was amazing. It's not uncommon, announcing the opening bands is just something he does, but there is just something about Maceo Parker saying your name on stage that is amazing. The low points are the struggle. It will kill you. It's funny how people watch and think it's so cool, being in a band and touring. Each time someone puts themselves in a situation where they are making a living off of what they love, that's a tough spot for them. It can be torn up just like that. It's definitely the toughest job I've ever had. It's very difficult. It's not like when I was working as a market researcher. If I needed staples, I'd go out and buy them and they'd reimburse me.

Alex: What made you want to get into creating music?

Pete: First of all, I didn't know what the life of a musician would be like. If I would have known, I probably wouldn't have gotten into it. People don't know what it's like before they set their minds on getting involved. Making a living off of music is different than doing music. Music is my product, but if you're just doing it on the side you can play music for music's sake. Playing music for money is cool, but it's a very iffy situation. I did, however, know that I always wanted to create music. I just didn't know that I would be doing it for money.

Alex: What goes into good music making for you?

Pete: Sincerity. Musicianship is not the key. Bob Dylan doesn't have the greatest voice, but his lyrics are sic. He has great imagery and expressions in his music. That is very important. Just putting everything on the line and pressing yourself, that's the key.

Alex: What do you want the listener to get out of your music?

Pete: Something different than I put in to it. I had a friend who interviewed Common Sense, and he brought up things that they weren't even aware of. So, if the listener can take with them something that wasn't your intentions when you wrote the song, that is great.

Alex: What inspires you to write your lyrics? Humor? Life?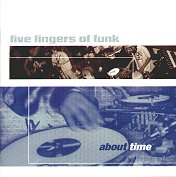 Pete: Actual experiences. There isn't much funny stuff, most of it is just what's going on with me at the time. ABOUT TIME [the new Five Fingers of Funk album] has some more comical stuff on it, but for the most part it's about what is going on with me and life at the time.
Alex: I caught your panel at NxNW. How did you get involved in that? Did you enjoy it?
Pete: They called me, so I said "Yes." I didn't really know what I was doing up there, I wasn't very prepared. I had no clue what I was doing, but it was fun!
Alex: At the beginning of "Offer We Can't Refuse," off of ABOUT TIME, you have a track with a guy claiming to be Cool Nutz offering you one point and a ten dollar advance. Is this serious or an inside joke?
Pete: That's Cool Nutz! He's just joking around. He's always calling up people and leaving messages like that. He has a lot of different aliases. He's a weird cat. Funny as well, but a weird cat. When I get messages like this, I save them, because you never know when they might show up on the album. It's kind of funny, because on one of the new reviews of ABOUT TIME, some writer said that the use of answering machine messages as samples was played-out. I mean, the answering machine is part of our lives. It's the only part of our lives that get recorded.
Alex: Written in your solo album are some words about hip-hop media being sub-par. Do you still feel this way?
Pete: The media is sub-par, not just hip-hop media. Actually, it's not even sub-par. People tend to have a different idea of what the media is. People believe what is written down as fact, but media's main purpose is to provide information so you can draw your own conclusions. One of the things that makes media so bad is the fact that mainstream media is controlled by money. In the world there are a million different cultures. In the world, people want to live how they want to live. Not allowing them to subscribe to their value systemis offensive. The media chops away and invalidates life styles and values all the time. If I watch MTV all the time, anything that is not on there is somewhat invalid. By watching MTV all the time, I'm blocking myself out from the world and I'm not trying to hear anything that's not on MTV. Media has a very American value system. Advertisers pick a lot of their content by the money they spend. Now, there are some writers out there working for so-called liberal papers who believe they can write whatever they want to write. The fact of the matter is, they write what the advertisers like. Otherwise, they would be fired. For myself, I don't put much stock in media. The Oregonian [Oregon's big newspaper] can be wrong. Take something as simple as "communist dictator" or "leader." If The Oregonian were to use one of these two titles, each one would have a lot different impact than the other.
Alex: On the CD, you also mentioned you regretted putting some shout outs that you gave on the songs. Do you still regret them?
Pete: Not particularly. There were some home boys who dissed me, and if I did it today, I wouldn't put the same shout-outs on it. But that's that. I like the album, and once I released it I was done with it. I just don't think about them anymore, once they're released.
Alex: How do you think Five Fingers of Funk and your solo career differ, yet how do you feel they are similar?
Pete: The solo shit is a lot more personal. It doesn't reflect the attitudes of the other guys in the band. My solo work is cut to the stuff in my mind, but the band is a community. Like I said before, with the band I hope to get signed and make a living off of it. But with the solo stuff, I just want to play, have fun, and if nobody ever hears it I don't care. Right now with Five Fingers of Funk I don't even have to think about the lyrics, I can just spit them out. The more I perform the lyrics, the less I ever have to think about them. I've done Five Fingers of Funk material so much on stage, I can be singing and thinking about my grocery list.
Alex: Now, let's talk about your forthcoming solo album. Do you have a title lined up for it as of yet?
Pete: Yeah, POTTIE MOUTH.
Alex: Do you have a concept, idea, or a theme behind it?
Pete: No, I'm not very far into it. However, I want to work with a lot of other great musicians on it. I'll be working with anyone I know who does music. Doug Smith from Pink Martini will be on it, among others.
Alex: Speaking of that, Pete Krebs mentioned to me that he was going to be 'adding his touch' to some of your tracks, laying down guitars and vocals. Want to tell me about that?
Pete: Pete Krebs and I haven't sat down to decide what to do yet. He has a great voice though, and I love his music, so I am looking forward to working with him. I assume you have WESTERN ELECTRIC [Pete Krebs' second solo album, out on Cavity Search Records]?
Alex: Yeah, of course!
Pete: "Purple Heart of Texas" is ill! His voice is so amazing on that song. He can sing and write. I don't like melodic stuff, but his music is sic. I hope Pete and I can write together. That would be great.
Alex: What do you think of Portland's hip-hop community? Is it close-knit and like a family, or is it pretty spread out?
Pete: It's close-knit, real close-knit. There is a lot of back-biting, but families always talk shit about each other anyhow. There is a lot of family oriented stuff. Deep down everyone's cool with each other, but just like brothers and sisters fight, so do we. People have a problem with success and just go off on these big success trips. But once they go out with us and hang out, they realize that it's nothing to hate on. I mean, there are drug dealers in PDX making more money than me.
Alex: What other Portland artists are you into? Any rock, or non hip-hop, artists you're into?
Pete: I love Sean Croghan! That cat is fly! We played with Moustache [Sean's hardcore punk band. Sean is also in a power-popband, Jr. High], and seeing him move around the stage was fresh. I also love McKinley, and Pink Martini. There was also this band I caught as I was walking out of the NxNW panel. Some punk rock/Irish drinking band. They were amazing, I just wish I could remember their names. But I like a lot of stuff. Hip-hop has my heart, but the more serious hip-hop heads I know...the ones in L.A. who grew up doing graffiti all their life and stuff like that...those are the cats that don't talk about it that much. It's obvious. It's in their blood, so they don't believe in limiting themselves to it. They don't have to be concerned with living up to their part of being a hip-hop icon, or whatever. After all, you don't walk around proving to everyone that you're a white person living in the Pacific Northwest. You grew up with the Pacific Northwest white culture, so you don't have to walk around proving it.
Alex: Anything I left out that you want to add?
Pete: Nope!