The Dillinger Escape Plan
Under The Running Board (Relapse Records)
By: Jeb Branin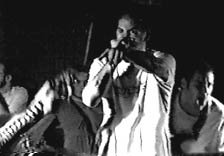 The gods of hardcore are pleased. THE DILLINGER ESCAPE PLAN offer up a sacrifice of blistering and manic hardcore that is as unique as it is intense. Combining the savage elements of power violence with spasmodic feel of thrash and you get a hint at where D.E.P. initiate their extremeness. But they go over board from there. To the mixture they add technical virtuosity and dark, poetic lyrics... almost like emo with an attitude. Emo-violence? Why the hell not? Not that it matters, because whatever labels you try to apply to this band, they are going to be inadequate. We should see a full length sometime next year and I expect it to turn the extreme-core masses on ear.

On a side note: Adam Doll, bass player for THE DILLINGER ESCAPE PLAN, was recently paralyzed in a terrible car accident. The medical expenses for his hospitalization and rehabilitation are pilling up. Hardcore bands from all over are teaming up to do benefits to raise $$$ for Adam. Please go to http://www.navi.pair.com/dillinger/adoll.htm for more information and if you can help in any way.