Discount
Half Fiction (Kat Records)
By: Alex Steininger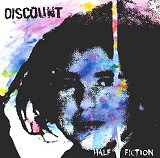 Four kids, a year or so out of high school, and instruments. These are the ingredients that Discount are built on. From there they add passion, fun, and a careful outtake on the world that we live and breathe. Mixing emo, pop, and punk, their sound can be quite catchy at times, while still getting your motor going with some anxious, energetic moves.

Starting off with the title track, the guitar instantly takes over and serves up a four course meal, complete with hearty portions of hooks and melody. The rhythm section bleeds every bit of energy in their body into the song, kicking some very powerful beats in the direction of the song. The vocals have a snotty British tone to them, but then again, they also have a sincere, sweet girl's touch. Sometimes they feel out of place, forcing the song into an awkward corner, while other times they fit right in and create a nice musical utopia.

As the CD progresses, so does the song's musical and lyrical content. "Am I Missing Something" possesses a very deep, important observation about people and their relationship's with others: "Together we've come to the conclusion that all is won even if we're losing. All is successful just as long as we're smiling." Backed by music that jumps from the starting line with fire, and then splits down to rest a bit, before rocketing back into the fast-paced pop-punk mayhem it creates, they're able to implant their visions into your head and land them smack dab in the thinker.

Slowing down a bit, focusing on some pop-emo, "Toxic Home" deals with chemical dependency and the need to hide behind substance abuse for the truth. Alison's painful vocals flow with real-life experience. It's almost as if she is writing a song about a position she has been in before, either through first person or a very-close third person perspective. As she churns through all the emotions, she gets your wheels moving and has no problem getting you to think about all the sadness in the world. A tug on the heart, the song's soft simplicity helps create the right mood to make you feel every word very passionately.

Able to go both fast and slow, the remainder of the songs continue in this tradition. One minute they'll be splitting atoms with thick guitars, while the next minute they'll be sifting in a pool of emotions, rubbing salt in your eyes, and watching the tears flow.

With a young, hesitant view on the society we live in, their lyrics are able to reflect both their youthful optimism and their 'growing-up-too-fast' upbringing that has been caused by the violence, drugs, and crimes that are widely publicized in the 90's. But no matter how their lyrics are carved out, they're always able to make the hooks stick with ease. There's always room for pop, and if it's as sweet as this, you'll begin to slowly dabble in it before it fully makes a fan out of you. I'll give this disc a B+.