Mad Caddies
Duck And Cover (Fat Wreck Chords)
By: Alex Steininger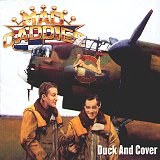 Their follow-up to their tremendous debut, this album not only finds them on Fat Wreck Chords itself (as opposed to their debut being released on Fat subsidiary Honest Don's), but it also proves the move was well worth it. A few years older, these kids show their musical growth by dabbling with Dixieland jazz on the punk/Dixieland sting of "Monkeys." But don't let that fool you, this album is still pop-punk/ska right down to the very last drop.

Charged and ready to go, "Road Rash" starts off with some pounding beats, before calming down a bit with the intro of the horns, and then bursting right back into the punk rock that helps make this disc so energetic. Switching off between ska and punk, It's quite disappointing when you're into the punk side of the band and then all-of-a-sudden they decide to add the ska-Dixieland, virtually taking the boost out of the music. It's not that their ska-Dixieland is bad, they just set you up for vigorous beats and then don't follow through on some portions of the song. But all is fine once "The Gentleman" comes on. Starting off with drums, vocals, and a chunky bass you can't help but be drawn into the music. Even blasting in with some horns, they help re-enforce the aggressive nature of the music. Nothing is soft here, everything is charged and ready to give you some sweaty fun. The drums maniacally pound in your head, while the guitar screams out loud with some beautifully distorted riffs. The vocals have that perfect punk snarl to them, making the song all that more attractive. Giving me the punk I was craving, I was quite satisfied. "Macho Nachos" keeps the horn-injected punk madness coming. Thick guitars, a heart-pounding rhythm section, and a brass section that kills all stereotypes and helps bring new life to the punk foundation these songs are built on, you can't help but want to get up and run around like a mad man, all the while claiming you are 'dancing' to the music. Or better yet, get out that air guitar and start singing along with the songs, because the lyrics are nicely packaged into the booklet. But punk isn't what these guys are all about, and "Monkeys" proves that. One of their weakest, yet strangest, songs lyrically, it does offer up a refreshing beat that will have you happily dancing along. Banjo-driven Dixieland jazz, with a heavy punk fusion, this song would stand out in a field of a million punk tunes. Crafty, confident, and highly infectious, even though the lyrics aren't that good, you'll still be smiling and singing along. The grip this song has on you is amazing. Don't resist it, because you know you want to get down with the song anyway. "The Joust" once again finds the band treading in new waters as they take a traditional ska foundation and spike it with third-wave beats. Punk and pop traces can still be found, but they rely heavily on the ska portion of the music to keep you dancing and having a good time. The horns even go as far as adding a Mexican touch here and there, while the upbeat will keep you dancing regardless. "aPathetic" gets the blood pumping in your body once again with another fast, hard punk number that carries the aggression and political content as well as any hardcore band on the scene today. Ending with "Popcorn," the band closes out with once last chance to dance. A slow ska number, reaching into both traditional ska and pop influences, the rest is badly needed after the power they've thrown at you previously. Sit this one out, or take them up on their last offer to dance. No matter what you do though, it's a nice end to the CD.

Keeping an edge, full of both adrenaline and fun, is very hard to do in the over-abundant days of ska and punk fusion's. But Mad Caddies seem to be quite good at it. Also able to express other influences in small examples, they offer you a minute or two to catch your breath before slamming you against the wall with some more punk/ska. I'll give this disc a B+.