New Wave Hookers
New Wave Hookers EP (Junk Records -- PO Box 1474/Cypress, California 90630)
By: Alex Steininger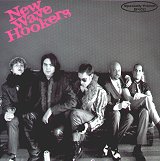 Portland, Oregon's sleazy bar-punk band New Wave Hookers are here to prostitute themselves to the music lovely community with the release of their new self-titled EP. Full of sleazy lyrics, cheap come-ons, and pervertedness, these guys know how to party and have fun. Taking the foundation of what punk rock was built on, the dirt and glamour of the likes of Iggy Pop and the whole CBGB's scene, and reviving it, this is one CD you can truly call "punk."

"Saturday Night Hooker" delivers on everything your imagination starts to dream up. Vocals that jump from gruff and gnarly to drunken, cheap romance styled, you can't help but instantly get the bar atmosphere floating around you. The lyrics even reflect the other head that drives the band. From cheap thrills and pick-ups over a beer to partying and living life to the fullest, these guys know what they want and aren't afraid to get sloppy drunk while trying to obtain it. The music reflects this better than anything. The drums keep the beats pounding in your head, while the guitars sizzle like a hot grill at the family reunion. Slap in some chunky bass grooves that have the boost to clip you from behind, and you'll instantly get a beer buzz just from hearing all the intoxication through the music. "Lipstick" throws in some really cheesy lyrics that get you laughing with them and not at them. Combining lipstick and dipstick in the same sentence, you can't help smile along with their crude sense of humor. Driven by the punk beats, the music will easily warm you up and soon you'll find yourself repeating the songs at will. You'll even be singing along, which is quite amazing, since the music isn't exactly mixed with hooks that are meant to be delivered in the way that they are. "Stone Age Romeo" keeps the punk essence alive, but this time around they add a dancing organ to the music that helps push those legs into action and gets you dancing along with the music. Jerry Lewis-meets-Iggy Pop, the combination is deadly. You'll be boppin' and dancing along, forgetting all your worries, and just having fun. Full of flavor and a bit poppier than the other tracks, this song shows a band that can jump out from behind their sleaze-punk foundation and deliver a tighter sound with ease. Closing out with "Murder In The Trailer Park," they top off the evening with a rock 'n' roll'er that will once again find you dancing and moving along with the music. The organ makes another appearance, although not as much as on "Stone Age Romeo," and helps to keep the energy burning in those legs.

The only downside to this disc is the fact that its an EP. They leave you craving so much more, so I guess the only thing we can do is wait for a full-length. In the meantime, this is one punk album that is open to many different forms of dancing. Sit back and enjoy, because this is one wild ride that will not leave you once it's over. I'll give this disc a B.