Wank
Get A Grip On Yourself (Maverick/Reprise Records)
By: Alex Steininger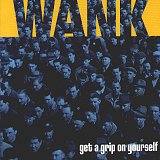 Southern California has an abundance of Social Distortion influenced punk bands, but not everyone of them has the chance to work with Social D's Mike Ness himself. Wank, on the other hand, caught the eye of Mr. Ness and brought him in to produce a track for their Maverick Records' debut, GET A GRIP ON YOURSELF. A mixture of thick, juicy pop and meaty punk, the twelve songs on this disc will definitely strike a nerve.

The opening track, "Crime Pays," is your standard punk-pop number. Hammering drums over a bouncy bass line and sharp slices of heavy guitar, the song has the energy, just not the originality. The lyrics teeter between standard political lyrics and a deeper meaning that can be translated more than one way. Although a very catchy number, it isn't until the next track, "Forgiven," that the band's pop sensibility is really showcased. A boppin', bouncy number based on the upbeat, within thirty seconds they'll have you so hooked you won't even look back. While jumping around, your lips will begin to move as well, spitting out the words that pour out so easily over the music. Then the chorus hits and some punk is thrown your way. You'll start pounding your feet (and fists) along with the hard-hitting drums, before quickly bouncing up-and-down once again when the verse slides under your feet. Already a hit on the radio, you may have heard it. If not, once you do, you too will become its prey. Showcasing their deeper side, "Super Normal," takes a stab at convincing you that normal doesn't exist, and you need to love yourself to make it in the world. "To me you're 'Super Normal,' brighter than the morning sun. Always 'Super Normal,' shining 'til the day is done . . . and then some," rings out through the chorus with both an emotional hook and a guitar-driven hook, easily finding a place in your heart for each of them. A mid-tempo punk number, it's like a slam to the head. First of all it seems slow, then it hits you with a powerful blow, quickly knocking you to the floor in amazement. Even though it's not fast and hard, the quick flash from verse to chorus will swallow you whole, eventually spitting you back out for another trip around the block. Also a highly-infectious, 'can't-miss' hit on this album is "Never," the second single. Also based on the upbeat, its ska-punk feel will have you dancing in no time, while it's angst-filled lyrics regarding relationships will have you singing along and dedicating each and every word to your ex's, especially lines like, "you never loved me, now I know, so I won't walk down the same crooked road," and "girl you're a cold hearted bitch." It's quite contradicting how the beat is a happy, bouncy number that you can dance and have fun with, while the lyrics are anger-filled to the bone. But it works like a charm to both release some tension as well as to kick back and have some fun, so don't go fixing what ain't broke. Keeping with the angsty topic of the night, "Best Friend" describes the situation so many have put ourselves into. It deals with people who shake your hand as your best friend, and then turn around to trash you when you're not around. Nothing poetic, nothing deep, just lyrics that seem so easy the listener feels like they could have written them. "You say bad things, call me a user. I'm confused, who's getting used?" and "you stab my back and shake my hand, can't you see...it's killing me," are just a few of the lines that hit you like a brick. No matter how careful you are, you've probably put yourself in this situation. That's what makes it such a brilliant number, because right from the get-go you're relating to the number from personal experiences. But the title of 'saddest' number on this disc has to go to "Larry Brown," a song about Danny Walker's, the main songwriter, childhood friend who died of leukemia. A number that reflex's both the sadness this tragedy caused in his life, as well as trying to face the courage to move on, it was so compelling that I got misty-eyed listening to it for the first time. Sure, it was just another song to me until I read the press release and realized it was a deeply personal number based on a childhood experience. From then on, however, it's melodic drive and emotional cries rip right through me. Solid pop-punk from beginning to end, its one of the few songs that has really grabbed my heart and tugged at it in the past year. Ending with "White Lightning," the disc closes out with some hook-filled punk that will find you slamming and moshing from the opening chords.

Wank is a solid band who has the ability to expand on the standard and create some very compelling, thought-provoked pop-punk tunes. Sometimes, however, they do find themselves in the generic land, but for the most part, they stay clear of this world quite easily. This album will make you dance, cry, and bounce, which is a lot of reactions in one album. I'll give it a B+.