Buckfast Superbee
Star and a 1/2 (Walking Records)
By: Alex Steininger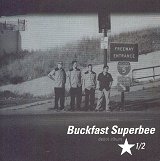 Hailing from San Diego, this charged quartet pumps out rock 'n' roll with a lightning bolt accenting every note. Highly energetic, as well as catchy, turning off the CD and getting some sleep will be the last thing running through your mind when this CD is blaring from your stereo. On this disc, their debut album, they prove to be a very promising band with a big future.

Being very weary of self-described 'modern rock' bands, I was instantly blown away with the opening buzz of "The 'L' Word." The lyrics were spiteful, intelligent, and ballsy. A song about relationships that move to fast, the line that sold me on the song was "These crazy ideas in your head. Well, it's been just three weeks and you're already picking out sheet for my bed." But besides the lyrics, the surprising thing about this song is the power that flows through every ounce of the song. Dressed up nicely with melody, and big hooks swimming all around the song, it offered up an irresistible combination of fury and hooks that are lacking in too many 'modern rock' bands these days.

But then track two rolled around and I started to wonder if the band was a one-hit wonder. "Launch" sounds like a soft Metallica song. Sounding like your stereotypical muscle man trying to pass on some feelings, the vocals moan while still trying to keep the 'big man' front alive. A bit softer than the opening track, while still trying to work in a few rocking moments, the song kept my mind going back to Metallica so I couldn't enjoy it that much.

But "Reason #2" restored my faith in the band. Another beefy rock song with soul, anger, and regret, your blood will once again start to pump rapidly through your body as you get excited and start to jump around. Fading into just guitar and vocals, the song helps emphasis some potent words that land straight on your chin and floor you. Followed with the bass leading the way back into the verse, the song has a menacing bite that will get you if you ever turn your back on it.

"Middle of the Album Song" helps to show this band isn't all contempt for society, as they kick back and have some nice acoustic fun. Nicely done, but it seems the band tries to make up for the lack of rock on "Can Crush Failure," which brings in a bit too much metal tendencies for me. The vocals are overpowering, yelling over the fuzzy guitar with such vigor it's hard to get a solid feeling from them.

The rest of the CD is easily to swallow. There are parts where the vocals don't go with the music, which takes a way a bit of the feeling, but for the most part they blend everything nicely. Kicking beats, lots of regrets to ponder and deal with, as well as a bumpin' bass and screaming-melodic guitars, this album had no problem warming me up from the first listen. After that, it still kept the same edge and energy so I never got bored with it. They even end the CD with a hidden track that is so childish and stupid it's funny. I'll give this disc an A-.