Speedbuggy
Hardcore Honkey Tonk (Porterhouse Records -- P.O. Box 3597/Hollywood, California 90078)
By: Alex Steininger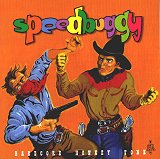 Featuring ex-NOFX guitarist Steve Kidwilder, bassist Brady Sloan, and Pat Munzingo, Speedbuggy plays a wild blend of country-fried power-pop. Keeping the down home lyrics prevalent in country music, as well as the hooks and energy common in power-pop, their 'hardcore honkey tonk' validates the cross genre statement, cow-punk.

With a bass line harder than a horse's kick in the groan, "Low Down On The Low Down" begins the CD. Then, when the vocals enter in, the song quickly shows its country roots. The rodeo drumming prances around like a stampede of horses on the range, while the guitar powers through the drunken alt-country riffs that put the kick back into the whiskey.

From this point on, there is no stopping them. Too wild and tempting to ignore, while maintaining an energetic, infectious core that will never leave you, their music is as intoxicating as the alcohol they downed while recording this piece of work.

"Country Song" finds the band sitting back and relying on a lot more country than power-pop. That is, until the end. The song starts off soft, but heavy, with country-soaked beats transcending from every speaker. A stereotypical country song about being broke and losing your love, at points you can't tell if they're playing up the stereotype or if they're serious. Then the song jumps into overdrive, as it soon transforms into a country-punk whirlwind of stunning drums, beefy bass lines, and twangy speed-guitar riffs. The vocals always tingle like the country breeze in the morning, carrying over emotion, pride, and good ol' fun with every word.

Paying homage to the legendary Hank Williams, "I Saw The Light" is a great cover that truly shows their appreciate for the king of country rock. High on a beer buzz, and cruising down the highway at 100mph, the song rips through power chord after power chord, mixed in with some country twang, while the rhythm section isn't afraid to beat the life out of their instruments. Hank Williams would be proud, that's for sure.

As the ten track album rounds out with "Carbon (Never Let Her Go)," "Faye (Speak Softly)," and the final track, "Pinche Fandango," the band winds down the twenty-eight minute disc with more soaking wet, punchy cow-punk sure to give you a whiskey high just by listening to it.

"You can take the punk out of the country, but you can't take the country out of the punk," states Speedbuggy's bio sheet. This couldn't be more accurate. Proving this statement on their disc, with it's release the cow-punk community will never be the same. I'll give this disc a B+.