Universal Truth
Symbol of Confusion (Self-Released)
By: Alex Steininger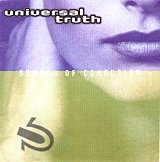 Between San Antonio and Austin, Texas lives a band by the name of Universal Truth. Two guys, Tom Rehkopf and Charles Gruber, with the help of some friends, create rock 'n' roll that forges past the pop hybrids and concentrates solely on glittery guitars and clean old fun. Nothing but the facts, in this case rock 'n' roll, they aren't afraid to let the world know that they're just having fun and don't take themselves too seriously.

Off to a shaky start, the energy and attitude is present, but the music doesn't seem to contain the hooks or attention grabbers that really get you listening to the music. "Symbol Of Confusion" is a straight-ahead party rock 'n' roll number that lets it all lay on the line as they kick out the noise. But as the song comes, it also goes without sticking in your mind.

The same thing goes for "I Ain't Jackin'," except this time the 80's guitar riffs and party-boy mentality throughout helps keep the song staggering in your head. Fun and carefree, it takes you back to a time when rock 'n' roll was about how much you could party off of, drinking and having fun, and not how much angst you could cram into one three minute number.

Then "Plastic Museum" comes on and you start to see their musical style take shape, as the songs start sticking. Light guitar work over a sharp drum beat, and some toe tapping bass lines, help keep your body shaking while the lyrics start to generate a smile on your face. Very unpretentious, and not afraid to be the punch line to the joke, this song will become an instant friend of yours.

"Smell Your Finger" and "Dragon Lady" start to see the band lose the short-lived catchy feel, however the jokes keep coming forward. Cheap bar rock it may be, but the lyrics circle around well-thought, clever jokes that seem too strong for the music.

Finishing off with the must abstract number on this disc, "Let Me Flow" shows the band in an experimental rock phase. Budding, but not yet there, it has some nice features that will shine if developed correctly.

A record with a long way to go, its strong points are plentiful enough to keep it in the CD player for a bit, but the raw, undeveloped sound will soon take place and win the disc a trip out of the CD player. If they concentrate a bit more on their musical craft, and a little less time on getting the jokes to tightly fit, then they might just have something here. I'll give the disc a B-.