Sprout
Sprout (Self-Released)
By: Alex Steininger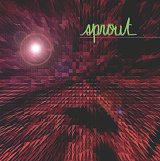 With the average age of the band members being 18 (three members are exactly 18, while one is 22 and the other is 16), this disc showcases a band that has both the musical maturity and craziness that will take them where they want to go. Ska-punk with a pop touch, seven songs make this EP a fitting introduction to their music.

"Come Back" is a good pop-ska number that does a good job of opening this EP. The upbeat is tight and danceable, while the horns help both strengthen the pop sensation as well as help keep the song in line. The vocals can be annoying at times, but after you get a feel for them they start to sink in and you begin to hear how they mix well with the music. "A Word With You" drops the ska and brings forth a fast pop-punk number that will start to get your blood pumping. Not original or anything new, but it does have a lot of energy and spirit, not to mention a very hard-hitting rhythm section, which makes it excel to the top of this disc. The vocals are much more enjoyable, sounding natural from the get go, and they never seem out of place. "Shut Up" serves up another pop-ska-punk number. A bit immature, it has its moments, but sounds very unfinished. The vocals once again lurk in the music, sounding very out-of-place, while the guitar seems a bit hesitant during the ska parts. During the punk parts it has no problem keeping everything quite enjoyable, but when it skips to the upbeat it starts to sound frightened. The organ is a nice addition and helps to pull the music together, giving it a coherent feel. Not a bad song, it just needs some work and some more time put into it before it begins to stand out. Ending with "Used And Abused," the band closes out with another ska-punk-pop sketch. Sounding a bit demo-ish, the music is all there, but it still seems to be lacking a few major components that can make it great.

Not bad for a bunch of 'kids.' This disc serves as a great demo to help expose the band to a wider audience. With a year or two of heavy gigging and practicing, with emphasis on writing solid songs, they can pull themselves up a notch and do a lot better. I'll give this disc a C.