Richard Davies
Telegraph (Flydaddy Records)
By: Alex Steininger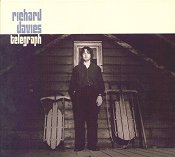 Best known as the front man for Australia's off-center pop band The Moles, Richard Davies has since created an identity for himself. Still crafting pop music, his style is both elegant and soft, while still maintaining a modest amount of rock blood.

Sticking his hand in the 60's pop cookie-jar, his music plays with 60's style and 90's life. "Cantina," which begins the album, breathes heavy amounts of classic pop from the air, crafting hooks in the same way a lot of Richard's influences did. The drums flutter through the song, while the bass helps everything float. The guitar works as if it is the leader, spitting out hooks for everything to follow, but it is the vocals (and, subsequently, the lyrics) that are the true leaders of the music.

Equipped with a soothing voice, and a desire to get his point out in a very light, subtle way, it's no surprise that the album starts off slow. It even continues this way, as his softly sang words trickle in your ears. There are a few bouncy moments though, such as the poppy, up tempo ride of "Papillon," and the organ-soaked, percussion heavy beats of "Evergreen." A very intricate album, the quiet tone of the disc seems to bleed together. Separately, each track can hold their own against other soft-pop songs of the same caliber. But, as a whole, the disc seems to ramble on. That doesn't mean it's not a good album in limited quantities. If you listen to the first five here, the last five there, and then just randomly jump from track to track a few times, the album does a good job of mellowing you out. But if you listen to it from start to finish too many times, you'll find yourself nodding off.

A decent album, it has it's moments. The whole thing flows nicely together. Too nicely, though. You get to the point where you just need to stop, or else you're going to crack. I'll give it a B-.