Sxip
When Joy Destroys Sorrow (Self-Released)
By: Alex Steininger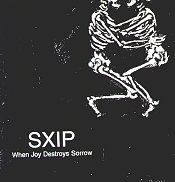 How do you go about reviewing something like this, let alone digesting all of this on your own to tell others about it? It's not easy, considering Sxip (pronounced Skip) uses his own instruments to create his music. Showing up on the roster are the industrial flute, mutant harmonica, extended double pennywhistle, prepared guitar, and curious stories.

Since he records solo and live, except an additional voice added on one track and a shaker added on another, the mirage of music becomes even more complicated. What do you label it? For the first time, ever I believe, there isn't even a genre or two you can slap on this puppy. Sure, you come in contact with bands all the time that are 'unlabelable,' only to slap a label on them to 'just get the people in close proximity.' But you can't even do that here. If I were to attempt it, I'd end up writing a few thousand lines just to come close.

What we have here is the weirdest, most fucked up piece of art I've ever heard. You've seen wicked paintings that are too visually blinding before, due to their abstract nature, but they don't even come close to having as much of an impact as this disc will.

Not that I got into this disc, I didn't. I could never digest it or even get a strong grasp on what was being done, but I did get a handle on the abstract concept behind it. A true visionary, Sxip has ignored the laughter and put-downs and decided to come up with his own musical creation. One that won't be touched for hundreds, if not millions, of years. This isn't the ground-breaking type that will be easily replicated. Maybe in a few hundred years cults will look back and worship him, who knows? It's possible, especially with the parts of the globe this guy is able to tap into.

One man. One mind. Plenty of instruments created by himself, for himself. These are the key, and virtually only, variables in his music. Here is visuals passed off as music, only to confuse and baffle. If you understand, more power to you. If not, wait in the line with the rest of us. Maybe one day we all will be standing in line worshipping? I'll give this disc a D, just because it passes itself off as ground-breaking art. Heck, if it isn't, it fooled me.