VARIOUS ARTISTS: Black Jacket Racket
A compilation of rockabilly, psychobilly, and punkabilly bands (Skully Records)
By: Alex Steininger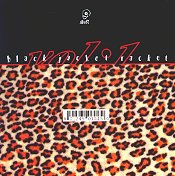 The first in a set of four, BLACK JACKET RACKET is a collection of eighteen rockabilly, psychobilly, and punkabilly bands from around the world. Nine bands from the U.S. and nine from other parts of the world work together to keep the root sound of rock 'n' roll alive.

Music goes in cycles, and rock 'n' roll is no exception. After being stuck in an angry phase for a bit, music fans decided they wanted to go back and start dancing again. Thus, musical forms like swing and rockabilly have seen a recent resurgence in popularity. If you're not familiar with rockabilly, then this is a good place to start.

Every track on here could be considered a standout, depending on what kind of mood you're in. One day I listened to this disc and there were certain tracks that just blew me away, and since I was so impressed it got a chance to go around once again in my CD player, and this time I discovered different high and low points. Curious, I waited until I was in a different mood and gave it another try. Sure enough, there were different tracks that blew me away.

Sure, you can say this will happen with any disc, but after going through this compilation a few times, I've realized that it's not the same. Where as with other discs I'll find certain songs to go with certain moods, these songs are all different, yet similar in heart, which helped shape it different to my moods. Even the tracks I considered to be weak one day had another chance, and most of the time became anything but weak. With other discs, this is not the case. Once weak, they usually remain that way until I grow a deep liking for the band.

A few bands that blew me away were Canada's The Puritans, Germany's Jesse Al Tuscan & His Lumberjacks, the United States' King Kerosene, The United States' 3-Day Monks, and The Lumberjacks from Austria. Of course, if you caught me at any other time I might pick a different set of bands that are my 'favorites.'

But to put it another way, after listening to this compilation as much as I did, there are no bands on here that disappoint me. That's a rarity in itself. Usually with compilations you'll get a few, or if you're lucky, a handful, of bands who carry the rest of the disc. That's not the case here! Everyone puts their heart and soul into their music, creating fifty-six minutes of sweaty danceabilly tunes.

I could go on and describe the specific sound of the bands, but then again, I'd start to listen to another track again and go, "Wait! They were the ones who blew me away..." and I'd end up leaving someone out. So, to summarize, if you're into rockabilly of ANY form, you need to check this out. This disc is definitely a winner, I'll give it an A. I can't wait for the rest of the set to be released...