Royal Crown Revue
The Contender (Warner Bros. Records)
By: Alex Steininger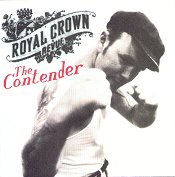 At the forefront of the swing 'revival' is Royal Crown Revue. Formed in 1989, they were dancing it out at clubs and other venues before there was a revival. Subsequently, as their popularity grew, others believed they too could pull it off. Slowly swing took its turn in the spotlight, and there was Royal Crown Revue. Earning their way onto a major label (Warner Bros. Records), they released the stellar MUGZY'S MOVE in 1996. Now it's 1998, and they're back with their second full-length for Warner Bros.

Adding a few more influences into the mix this time around, THE CONTENDER shows the band stepping out from one angle, while finding them even deeper into the sounds of old through another angle. This time around they've decided to add a bit more of a pop feeling. But don't worry. The album is an expansion on their past releases, but it's not that big of a departure. They still rely on the swing nucleus to charge them, while using the pop as a way to down the medicine smoother (in small quantities, don't worry).

Re-recording the classic "Zip Gun Bop" for this album (now called the 'reloaded' version), they've decided to tighten it up a bit and fix a few rough edges on the past version. A little jazzier, the new version is noticeably different, but still has the infectious sing-along chorus that made it such a hit on MUGZY'S MOVE. Personally, I thought the MUGZY version was grand, and needed no tampering, but the new version isn't that shabby either. It still hasn't beaten out the MUGZY'S MOVE version, but is leaps and bounds better than the KINGS OF GANSTER BOP (their first album) one.

However, this album is lacking in the 'standout' category. It doesn't contain tracks you can stand up and let breathe on their own. The closest thing to earn that title on this album is "Walkin' Like Brando," a fairly punchy tune with both an infectious horn line and an addictive drum beat. The chorus is well structured, drawing you in and letting you sing-along while the music keeps your feet vigorously moving. Eddie's charm is stamped on this song, giving it an extra push to really go over well with the listener. And, it has a fresh taste -- never stale like other parts of this album.

"Work Baby Work," with it's Vegas show style, swing/jazz vibe also is a 'contender' for top track on the album. Although, "Walkin' Like Brando" and "Zip Gun Bop (Reloaded)" seem like much better candidates due to their punch-ier sound, instant attraction features, and energetic flavor.

All and all, Royal Crown Revue has created a decent swing album. It does the job of getting you dancing, but that is about all it does. While you're dancing, you won't pay much attention to the music, and when you do, you'll be disappointed. There are those high moments ("Walkin' Like Brando" and "Zip Gun Bop"), as well as various clips from other songs, but as a whole the album seems to pale in comparison to MUGZY'S MOVE (or even their amazing live album, CAUGHT IN THE ACT!)

Maybe it's just the fact that 'Mugzy' and 'Caught (live)' were so tremendously rich with energy, but they seem to tire out on this release. Decent and well-rounded enough to maintain a few rotations in your CD player, after awhile it will get old -- fast. I'll give it a B.