The Rarely Herd
Coming of Age (Pinecastle Records)
By: Alex Steininger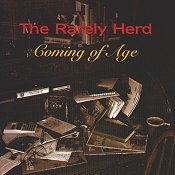 "Young guns" by bluegrass standards, The Rarely Herd has been playing their version of bluegrass since 1989. On their fifth full-length release though, they earn themselves honors among modern bluegrass bands, and help chip a way into the music's history books.

"That Ain't No Way To Go" starts off the album with a memorable number about a friend who decides he is discontent with life and begins to look at "all the things he wasn't getting from his wife." Giving him a step in the right direction, the song helps him question "what he had done for her." Some nice guitar picking leads the song, while Jim Stack's lead vocal work also helps give the song a smooth vibe. A worthy chorus latches onto you, and, well, the rest is history. From there on out, you're hooked.

"Moonville Brakeman" has you hooked before you even listen to the song (if you read the booklet first). Explaining that this song is about the ghost story "every town has," the mystery quickly ropes you in and has you dwelling in legend and campfire glory. A nice banjo plays the perfect companion to the guitar, while the mandolin and bass also keep the song flowing. Jeff Weaver's tenor vocals and Jim Stack's lead vocals capture great harmony, boosting the song even further. A very warm tale, both the story line and the music are quite intriguing.

Originally written by Pam Gadd in 1981 as "My Virginia Man," Jeff Weaver got a hold of the song and decided to re-name it "My Virginia Girl." Never hearing the original, I can't draw comparisons on that, but their version seems plenty ripe. Jim Stack always delivers some down home, inviting vocals, while Dan Reno's banjo keeps your toes and feet moving. The rest of the band, as well, helps keep everything coherent and fluent. Soft and delicate, it's the type of song that will have you snuggling up to your loved one in front of a fire, or dancing at the local bar closely to each other -- realizing what you have is special. Always bringing out the best in you, the song lets it all on the line.

Ending with a song common in churches, "Holy, Holy, Holy" brings forth a mostly a Capella song that helps wind the album down. If they didn't prove it by this point you weren't listening, but they again point out the fact that their vocals flow together like water. So rich and easygoing, this spirited track will have you feeling good by the time it ends.

Together for nearly ten years, The Barely Herd have definitely honed their style into a skill. Keeping the music they love alive, these musicians have a strong grasp on bluegrass, and how to translate that love into something their listeners will enjoy. If you're into bluegrass, you might want to check this out. I'll give it a B+.