Vanilla Ice
Hard To Swallow (Universal Records)
By: Alex Steininger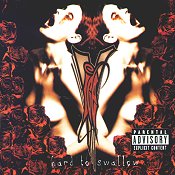 Vanilla Ice!?! Yes...I vaguely remember that name. Wasn't he the funky white boy rapper whose image was more noticeable than his sugar-rap hits that all the kids went crazy for? You mean, the man who drove the nation crazy with "Ice Ice Baby?" That's the man. And it's no lie, he's back.

Bringing in legendary hard rock producer Ross Robinson (Korn, Limp Bizkit, etc.), Vanilla Ice has taken a turn towards a new sound. You guessed it...HARD ROCK! He still raps, don't get me wrong, but in a way that will please Limp Bizkit fans, rather than people still moving to the tunes on TO THE EXTREME.

On his new album, HARD TO SWALLOW, he even offers up the late 90's version of "Ice Ice Baby," now known as "Too Cold." Screaming instead of dropping silly rhythms, and backed by hard pounding, churning guitars and a thundering rhythm section rather than a slick, sugary rap back drop, this time around he manages to fit in with the trends of the time. The only question is, is he a trend hopper or was this a natural progression?

Some may claim this is the true Vanilla Ice, while others may scoff at his decision to even get back into music. After all, he's been the running joke for so many years, why try to recreate your name amongst all the embarrassment? Regardless of what may or may not be the case, Vanilla Ice may not be trend hopping, but he certainly has became the awkward musician of the nearly ending 90's.

As I sat and listened to this disc, over and over again, I couldn't help but laugh. His new sound is such a gigantic leap it's, well...'hard to swallow.' I mean, everyone has an imagine of who Vanilla Ice is. And this is not it.

Since he obviously wanted to try something new, the least he could have done was change his name. Why use the same moniker that brought you such shame all those years ago? In my mind, Vanilla Ice will always be the silly kid up on stage attempting to be something he was not. And for that reason alone, I just couldn't get into this album. Though, I will admit it does reach up there and sit right next to Limp Bizkit in terms of talent. I'll give the album a C.