Mankind Liberation Front
Mankind Liberation Front (Sol 3 Records/BMG Entertainment)
By: Alex Steininger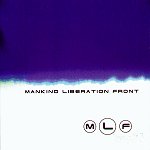 Mankind Liberation Front is the combination of ideas, concepts, and creations of two men: Breathe (Ran Pink) and Smack 3000 (Herwig Maurer). Meeting each other at the Berklee College of Music in Boston, after working on Maurer's engineering final (he had to produce a demo for an artist...Pink), they instantly clicked. Sharing alien/conspiracy theories, as well as musical interests, their musical formation as MLF seemed the logical next step. Trading in influences ranging from rock and techno to acoustic pop, they manage to take electronica to the next level. Now they spend their time locked up in their studio, Alphastate, where besides working on their style of electronic music, they also produce and score music for independent films.

Unlike any techno or electronica music I've ever heard, "Center of the Universe" gets you chanting along, while spinning around in your head and getting you to dance. The chorus rings out like a pop song as "We are the center of the universe" keeps repeating itself in your mind. But the backing music stomps along with some electronica dance beats you can just imagine taking you over while you spin and shake at a late night rave. The addition of an acoustic guitar makes it that much more unusual or, shall we say, 'different.'

This isn't a one-song shocker, either. "Karma Konvention" has the another twisting drum machine hook you can dance with like the opener does, as well as the lyrics that actually have a voice in the music. It has been my experience that a lot of electronica acts just throw words in to the song, meaning or no meaning, but don't really give it a voice. The music over powers it and becomes the center focus. Although the music is a force to reckon with here, the lyrics still play a vital part in making the song what it is.

Through the use of acoustic pop intertwined with techno beats and a rock 'n' roll mind, MLF eat up the electronica sound they love so much, and re-develop it to fit their imagination. Clever, quirky, and highly danceable, they incorporate technology as their third partner and move forward to embrace the twenty-first century. Yes, here is some groove music for the next millennium. I'll give it an A.