Cole Marquis
Lightning in a Bottle (Devil in the Woods)
By: Alex Steininger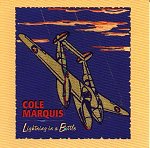 Front man for San Francisco's popular Snowmen, a quickly rising indie pop band, Cole Marquis also creates beautiful solo music that furthers the intimacy the Snowmen possess, as well as expanding on his honest and delicate lyrics.

With a current singer/songwriter craze starting to bubble, it seems everyone is jumping on this route. But, Cole has been recording and releasing solo material since 1989's ALONE IN A ROOM (Devil in the Woods). So, it is no surprise that the first track on LIGHTNING IN A BOTTLE, "Umbrella," is full of emotions and feelings, as well as a concrete base that never allows the song to trail off into dead paths. Rather, Cole manages to keep the song fresh and lively with a center piece of guitars and vocals.

"Orchid" keeps the feelings and emotions coming. His gentle, strong-willed, but still a bit troubled, voice leads the way over an acoustic guitar that carries his words straight to your heart and head. As he sings, you feel as if he is right in front of you reading your mind and trying to create a song you'll enjoy and relate too. Even if the words don't hit you, the music is so pretty and intimate, you can't help but feel as if you're relating to him and his thoughts.

Then there is "48's," which lightens up the mood a bit with a more up tempo, energetic number that feels like a glass of lemonade on the porch during sun up in a town hidden away by trees. The country pleasantry makes its way into this pop-folk number, but this isn't a folk by way of country song. It is still the folkie pop that Cole thrives on.

But, if you want some folk-country to feed off of, with a dash of pop for good measures, "Hand Grenade" is ready and willing to satisfy you. The country influences show their face in the bright sun, while the pop and folk sit in the back and help direct the music. But no matter what musical style or genres Cole is riding through, his lyrics are always present to remind you of why the music is so powerful, while his sincere, loyal vocals drive the message home.

Ending with "Getting Darker Sooner," the album finishes off with some streaking guitar-rock riffs coupled next to the relaxed, sentimentally emotional urges and quiet appeal that make the rest of the songs so warming and inviting.

As a front man for a band Cole is able to captivate, entertain, and move you. The same can be said about his solo work. You might even catch me saying I enjoy Cole's solo work over his band work, but given any number of moods I'm in, I might flip-flop. But, no matter how I'm feeling, both, especially his solo work, are always pleasant to listen to. I'll give this album an A.