STORY: Kid Rock
Look At That White Kid Rock
By: David Jenison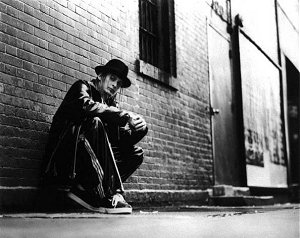 Kid Rock, Detroit's white rap wonder, has been burning up the underground for nearly ten years. Since his 1990 debut, Kid Rock has released albums on Jive, Continuum, and on his own Top Dog Records, but now with his Atlantic Records debut, the Kid has his best chance yet to take his pimp-rock rap style off the street and into unsuspecting suburban homes nationwide. The Kid has been seen already on MTV and through a great amount of press, but the real question pressing the fans was yet to be asked, until now.

So, Kid, is there anything you hate more than being compared to Vanilla Ice? "That's one kid I'll lunge at!" snaps Kid Rock. "I don't care how much security he has, I'm going after him. He embarrassed a whole generation of white rappers. It's impossible for any white guy to rap without hearing his name. "

While we'll take that as a 'no,' it is possible that the Kid would do such a thing as attack Vanilla Ice. Kid's the kind of guy who spent the night in jail the day he received his advance check from Atlantic. "Yeah, I spent the night in county jail," he recalls. "When I got the dough, I rented a limo, loaded up my crew, and rolled over to a local bar in Mt. Clemmens. I gave the bartender five hundred dollars and told everyone that drinks were on me. I was completely jacked up within twenty minutes. Later that night, some kid - I guess I was with his girlfriend or something - body slams me right off my chair. My buddy sees me go down, so he cracks a bottle over the guy's head. A big brawl breaks out, and the bouncers think I started it because I'm in there high balling. The cops came and hauled us down to county, but we're all still jacked up. We partied in lock-up and had a blast tormeting the cops."

Atlantic Records was not surprised, though. The label knew Kid was a freak when, at his showcase for the label, he brought out his midget rapper Joe C. on a pony with a little cowboy hat and an electric shirt on that was lit up like a Christmas tree.

Concerning his much loved midget rapper, the Kid explains, "Joe C. . . that little mother used to come to all my shows, stand on tables in the front row, and sing all the lyrics. It bummed me out because I thought he was some little kid, and his parents were taking him to all my shows and buying him my records. I'm not the king of morals or anything, but I thought that was a little twisted. Finally, after one of the shows, Joe C comes up to me and asks if I wanted to smoke a joint. That was the final straw. I asked him to take me to his dad, and he got pissed. He started yelling, 'I'm grown! I'm grown!' When I realized he was just a midget, I said, 'Bring your short ass backstage.' He hung with us in the back, and I offered him a job rapping with the crew. I bought him a little karaoke machine and taught him how to rap." Previous to his Atlantic deal, Kid Rock toured with the likes of Ice Cube and Too Short, but since recording his new album, Devil Without a Cause, he headlined his own club tour, did the Warped Tour, and is now out with New Jersey metal gods Monster Magnet. Concerning the future after this tour, the Kid remarks, "I'm just going to make sure I keep getting paid because I'm here for a good time, not a long time."