STORY: Orange County Supertones
Chasing the Son Back to California
By: David Jenison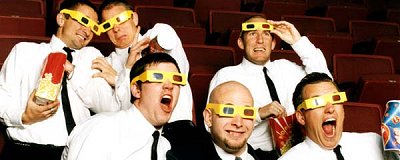 "You guys are gonna call it Return of the Supertones, aren't you?" says drummer Jason Carson, imitating the most asked question on tour about their new album, the follow-up to the hugely successful The Supertones Strike Back. "Kids would ask this question as if their lives depended on it. We thought it would be too predictable, but we told a few kids 'maybe!' because I thought it would kill them if we said 'no.'"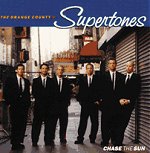 The eventual title to their album, Chase the Sun (review in this months issue), came to singer Matt Morginsky as he drove solo from Nashville to his home in Southern California. As he hit Arizona, the sun was setting across the beautiful, red-colored, mountainous skyline, and he thought, "If I get lost, I can just chase the sun back home to California." The powerful spiritual metaphor was too much for the band too ignore, especially considering the gravity and importance of their new album. Concerning expectations for the new album, Matt remarks, "If a person measures his success by soundscan numbers, he's bound to be disappointed. No matter how big you get, you won't be that big forever. That's why we measure our success by how well we communicate our message."
Jason adds, "With everything, this band is about the message. In a world where there is so much craziness and so many problems, there is very little in which a person can put his trust. God has done so much in our lives that we want to use music and any other means we can to convey a message about how much God loves you and how much he's done for you."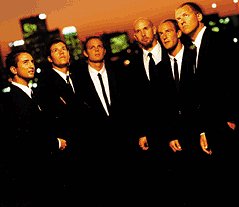 While the band members remain focused on their Christian message, it is still hard to ignore the enormity of their success, already selling over half a million records. Since The Supertones Strike Back debuted at #3 on the Billboard Heat Seekers chart, the band's music has been played at televised sporting events (including games by the Chicago Bulls and Anaheim's Mighty Ducks), on television shows like Extreme Sports, and on numerous MTV outlets, including the 1998 MTV Video Music Awards. The new year started off even bigger with the band "opening up" for the Pope and President Clinton at the Light of the World Papal Youth Ralley in St. Louis, MO, an event which only happens twice a decade. Guitarist Brian Johnson laughs, "My parents didn't care that our music was played at the MTV Awards, but my mom actually mentioned the Pope show in every single one of her Christmas cards!" The Supertones have come a long way since they started eight years ago. Back then, the band played songs from every musical genre, including but not limited to punk, disco, metal, funk, rap, hardcore, and rock balladry. However, the band soon embraced its ska, dub, and pop-punk influences to create a diverse yet cohesive high energy sound which made their 1996 debut, Adventures of the OC Supertones, an instant hit, and 1997's The Supertones Strike Back an even bigger smash. For Chase the Sun, the Supertones recorded in the same studio where Nirvana's Nevermind was recorded and with the same producer who produced both Rage Against the Machine records. The resulting fourteen track album features songs in classic Supertone style but with a number of very progressive music departures. "We do the music that comes naturally to us and that means taking a lot of risks," explains Matt, whose hip-hop influence comes from growing up on Long Island when NY locals Run DMC and the Beastie Boys first broke out. "Many of the songs move away from our old sound, which was much more ska influenced. This album features a few acoustic songs and one with a Jimmy Buffet/island music feel. The title track, "Chase the Sun," is really like an old school hip-hop song with drum loops."
With Chase the Sun, the Supertones created an album that appeals to old fans but that also incorporates progression which will expand both their audience and their longevity. While they could have rested merely on their ska-punk laurels, they evolved their sound in such a way that will keep their music vital and relevant for years to come. Without a doubt, the Supertones' fans are about to become Superfans with one listen to Chase to Sun.