INTERVIEW: Buck-O-Nine
Interview with Jonas (Guitar) (Buck-O-Nine)
By: Alex Steininger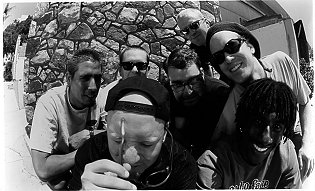 Following the success of 28 TEETH, their TVT Records debut, and third full-length overall, Buck-O-Nine is back with another pop-punk-ska album packed with energy, insight, and fun. Talking to their guitar player Jonas via phone during their Dallas stop, we discussed the new album, among other things.

Alex: LIBIDO seems a bit rougher and back to the basics, whereas 28 TEETH sounded very slick. Was this intentional?

Jonas: I guess, in a way. From my guitar standpoint, I didn't want it to be so conservative. I wanted to be able to let loose and have a more ballsy sound. It isn't as raw as BARFLY, our second album, though. It has a lot more depth and texture. 28 TEETH seemed lean, but the new one is a bit more built up and ballsy.

Alex: The new album also seems to carry on with the pop focus of 28 TEETH, but with less ska. Did you go into the studio with this in mind?

Jonas: Not in those words, but once the songs were written and brought to the band, they had already changed some. And by the time the band worked on them, they became completely different. We wanted to expand and do new stuff. From a band's view, we didn't want to stagnate and do the same album over and over again.

Alex: Well, from a listener's standpoint you don't want to hear the same album over and over again, either.

Jonas: Exactly! So, we tried to expand ourselves and try new things.

Alex: Is there a video or single currently in circulation? Or are any planned?

Jonas: "Who Are They" is the first single and is currently being played. But, I don't think we're doing a video for it. And I think "Tell It Like It Was" is going to be released as a single in a few weeks. But, as far as I know, we don't have any plans to do a video for it either. I don't know if we're going to do any videos, though we might.

Alex: Now, the album was originally going to be released in October, but it got delayed because the first mix wasn't that good, and then the label wanted to avoid the Christmas rush brought on by all the big bands, so they pushed it back to spring, right?

Jonas: We delivered an album that sounded like crap. It wasn't because the songs were bad, it was because of the mix. And we knew that. So, we asked if we could remix it and deliver something we liked. It wasn't because of the Christmas rush or anything, we just wanted to be able to spend some time and remix it. We hired two experienced mixers to help us make it sound right, and then a friend helped us with the vocals and backing vocals.

Alex: Have the initial sales been good for the album?

Jonas: Yeah!

Alex: 28 TEETH sold in excess to 100,000 copies. What is your expectations for LIBIDO?

Jonas: If we can meet and beat the 150,000 to 200,000 that 28 TEETH sold, that would be great. It would show us that the people that bought 28 TEETH really like our band, and it wasn't a one-album thing, or one song that got them to buy the album.

Alex: Do you feel the popularity of ska helped you sell 200,000 albums, and now that commercial media isn't into ska that it will hurt your continuing success?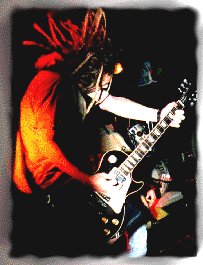 Jonas: Sure, it helped! I mean, Less Than Jake, the Mighty Mighty Bosstones, and Buck-O-Nine all had songs on the radio. And that definitely helps you sell records and get your name out there. But, I don't think it is unrealistic to sell 100,000 albums off of touring and a strong fan base. I mean, we always tour nonstop, and have built up a strong fan base, so I don't think 100,000 is that far off of a goal. Look at a band like NOFX; a band that doesn't get a lot of radio play and support, yet each album they release goes gold, or more. Possibly even platinum. They have a huge fan base. That's not to say we're NOFX, because we're not. But if we keep in touch with fans and stay out on the road, 100,000 should be possible.
Alex: On that same note, if I pressured you to classify your music, would you call yourself a ska band, a pop band, or what?
Jonas: I like to call us a cross between Oingo-Boingo and the Dead Kennedys.
Alex: You're currently out touring to promote the album; any specific tour plans after this tour ends?
Jonas: This tour ends May 8th, then we are doing shows each weekend -- one-off type stuff. We'll fly to Philadelphia for one show, and a few other places. Then we're going to go to Japan, and hopefully after that Australia. We'll also be doing Warped Tour stuff.
Alex: To date, do you think LIBIDO is the band's best album in terms of songwriting and everyone's ability to play together as a team?
Jonas: Yeah, definitely! By far!
Alex: Do you have any problems or things you'd like to change about LIBIDO?
Jonas: No, not at all. It came out just the way I wanted it to.
Alex: What's your favorite aspect of the new album?
Jonas: My favorite aspect of the new album is the fact that we were trying to write good songs, and I think we achieved that. The album has a lot of energy. It's a very high-energy record.
Alex: Anything I left out that you'd like to cover?
Jonas: Just check out the album if you haven't already, and we'll be around to everyone's part of town by December.