Sick Of It All
Potential For A Fall -- CD Single (Fat Wreck Chords)
By: Alex Steininger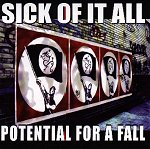 With their Fat Wreck Chord's full-length just released, CALL TO ARMS [see review this issue], Sick Of It All is ready to take the world by storm and knock down anyone in their way. And with their first single, "Potential For A Fall," they seem poised to do so.

Kings of the New York Hardcore scene, SOIA's first single is a melodic blast of hardcore that will have you pounding your fists while singing along. It's got all the aggression of their other material, but is a bit sweeter as far as melody is concerned. A slight bit of pop finds its way into the overall mix and does wonders for the outcome.

Also on the album is another CALL TO ARMS track, "Let Go," as well as a new cut by the name of "Soul Be Free." The later is just what you'd expect from these four fellows. Although not as fast as some of their other material, it's still heavy as shit and full of political content that will knock you on your ass if you don't pay attention.

Kings they are, and they prove it again with their new single, "Potential For A Fall," which is sure to please current fans and turn others into hardcore newcomers. I'll give the single a B.