VARIOUS ARTISTS
Serial Killer Compilation (Serial Killer Inc./Fearless Records)
By: Alex Steininger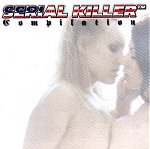 A compilation of punk rock from around the U.S., predominately pop-punk but with punk of all sorts to be found, Serial Killer, Inc. and Fearless Records have teamed up to bring you some good times rolled into loud guitars, slamming drums, and nerve-shattering bass. And, they don't play games, either. They bring you some of the best, including: The Queers, Pulley, No Use For A Name, [REO] Speedealer, Blink 182, Zeke, and Hagfish.

The always loveable Queers kick off the disc with a catchy ditty they call "Tamara's A Punk." Let the power chords fly as the rhythm section comes crashing down on you. And don't forget the huge amounts of pop the band implements into their sound, because they sure don't. Bouncy and fun, as always, The Queers get things rolling right.

Pulley, who have a new album soon to be released on Epitaph [look for a review in an upcoming issue], follow The Queers with some charged punk mayhem that is poppy, although not as much, and full of the same spirit that makes the two pop-punk bands so fun.

Of course, [REO] Speedealer comes along with some bloody punk rock hardcore that spits on the pop elements and just goes full blast with the venom-fueled joyride punk that is all about drinking beer, having fun, and breaking a few heads in the process. Where as the others were poppy and bouncy, this song is fist-pounding, body-slamming energetic with all the right amounts of screaming guitars and vocals.

Back to the pop-punk that dominates this disc, Bigwig gives you chance to "Smile" with their sugary punk notes that taste as good as a box of Fruity Pebbles and Pepsi. Hooks o'plenty with the drive still present, they conjure up a ditty that will have you singing along and dancing with ease.

Zeke, much like Speedealer, doesn't even bother with the pop and just charges headfirst into barroom punk rock that is soaked in beer, pain, and aggression. Let go as they take charge, and let them help you release all your tension with this one blast of punk.

One of my favorite pop-punk bands, Hagfish's unreleased contribution of "California" made this disc quite the treat. Their trademark pop anthems are fueled by the punk spirit that makes their records loud and entertaining, and their live shows an occasion not to miss.

Ending with "The Bike Song," I-45 teams up with Cult Ceavers to bring you a hip-hop/punk/metal song that offers up something different than all the other twenty-seven tracks on this disc. It takes a while to get into it, but once you do you'll be hooked.

How can you go wrong with twenty-eight songs for 5.99? Especially with the line-up this disc has (88 Fingers Louie, At The Drive-In, Rhythm Collision, Diesel Boy, The Overdrives, Smut Peddlers, 30 Foot Fall, Fun Size, Bracket, and more!) I'll give it a B+.