All About Chad
Down In Front (Big Pop Records)
By: Brian Barry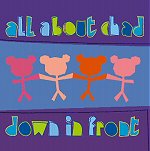 Every time I go near the drawer where all my CDs are sleeping, I have the urge to pick this one up and cradle it like one of those nice and cute little babies at the hospital next to my apartment that I sneak in to see and handle and then sneak out and wish that I had one too and so I go and knock up the Mrs. Haversham down the block and now her husband wants my ass dead.... Oh yeah "Down in front" has some of those irresistible hooky ditties that we love to shake our little heads and curl and uncurl our little toesies to. I always wanted to make love to this cd but the singer's voice is just too cute, almost like an 8 year old dealing with high school life. When I first listened to it, I wasn't too impressed. In fact, I tried to give it to my friends, but they refused it like bad whitefish. Then my dog shat on it, so I shoveled it up and threw it out. Good thing it rained that night (so it was clean by the next day), because I realized I had made the mistake of not giving it a second spin. The next morning I ran out to the curb and grabbed the garbage truck as it pulled away, hopped on, waited until it stopped at the landfill, waited until all the big tough garbagemen disappeared, then dove into the gelatin of the landfill and swam around looking for it. Good thing I was hungry because it was below a plate of spaghetti I had begun eating.

This album is really nice for a Hanukkah present. I popped it in and "Embarrassing moments" began playing. "The landfill was an embarrassing moment", I thought, making an immediate connection with the band. This song is funny. It starts off with a cool little harmonica rhythm and then the little guy's voice pops on, "She was taller than the tallest building in Quebec and I was higher than the highest dead head watching Star Trek". It sounded like a happy love song, that was actually an "everyman" song about thinking about those silly things you used to do when you were a kid like thinking you were so cool. After hearing this one, I ran to my high school yearbook and came to the conclusion that I was a lame ass. However, some things never change, they just get older. The dog banged into the cd player, so the next song that popped on was "I know a girl". It's a cutesy little number about a girl that the singer knows. He knows a girl who's pretty cool, who's a little quirky, a little late (getting places), and when he kisses her, it goes a little...like...thissss. End of the song with a pretty little guitar strum ending.

My favorite by far, the one that wasn't effected by the landfill, was "that would be ducky". This song needs to be played every where. I think they would play it in Iran! That's how great it is. Has it took me song long to bring the good stuff up? It's a boy/girl duet between Ben Reiser and Feast of Saints singer Ashen Keilyn that makes all that falling in love stuff make sense (in a comical way). It has that "There She Goes" (the LAs) feel and a playschool vocal harmony with lines like "Maybe I can hold your hand, If I don't use protection, can I still be your man?" or "If, by chance, we had an accident...would we still think our love was heaven sent? Would we lie and tell our parents? Or wait until the truth got quite transparent?" Or my favorite by far, "You stood and cried while she stood untouched, searching for a bargain basement abortion in the...summer months" It is truly one of those songs that you have to keep hitting repeat on because it's too damn short!!! Too damn good!!! I hate it when that happens! All about being good to me. Mom and Pop's is right around the corner...stop by and search under "A" for "All about Chad" if you can't find it, look harder you lazy ass! Otherwise, go to BIG POP RECORDS: home page and order the damn thing. Jesus, you're so lazy...it's this computer generation man. Well, boys and girls, I'm off to the luxurious shores on the Bahamas. Until we meet again, listen to good music - not the shit the radio is making your ears accustomed to.