Drinking From Puddles
A Radio History (Kill Rock Stars)
By: Alex Steininger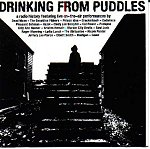 Since 1982, when he become the first college DJ in Oregon to have an all-punk-rock format radio show, Brandon Leiberman has supported great bands from all over the globe. Celebrating sixteen years of his show, "Drinking From Puddles," Kill Rock Stars and Brandon Leiberman have put together a compilation that goes from the quiet sounds of Elliott Smith to the loud, head-on punk assault of Poison Idea, this compilation covers the eclectic sound "Drinking From Puddles" has embraced since day one.

A live version of Hazel's "Mr. Magazine Man" shows the power this three-piece could, and did, pack into every live performance. The studio version appears on their last release before their demise, the AIRIANA EP (Candy Ass Records), but as good as it is, the live version steps everything up a notch and explodes with Jody Bleyle's patented crashing drums and Brady Smith's slab of bass fury. Of course, Pete Krebs' guitar work and lead vocals aren't to be forgotten, as they were also a driving force.

Another stand out track has to be The Obituaries (Monica Nelson and Rob Landoll) acoustic contribution of "Nobody Else." The queen of Portland punk, Monica always packed enormous talent and beautiful vocals into each song, not to mention the power she brought to the stage when The Obituaries were playing. However, on this track you get a chance to see and feel the acoustic side of the band, as Monica proves her voice is what made the band, and Rob's guitar playing complimented it perfectly.

Then there is Portland's pride, Poison Idea, punk rock legends in the Northwest. From their first live performance in 1981 to their current formation, the band puts on a powerful live show with ferocious tunes and an overwhelming drive to pound out the best punk rock their audience has ever seen. On "Taken By Surprise," their contribution to this compilation, the band pours through their trademark style with no problems at all. If you're hearts not pounding by the time this song ends, there is something wrong with you.

From his critically-acclaimed, major-label debut album, XO, Elliott Smith contributes a live version of "Everybody Cares, Everybody Understands." With the added personality of "This is where I begin to fade out" at the end of this song, and Elliott's surreal voice, this is one of the most heartfelt, sincere numbers on the disc and will have you shaking in joy. If you've heard it on the record, you were amazed. But here, you'll be blown away at the honesty that is captured through Elliott's live voice.

Following that is a live acoustic performance from Gilly Ann Hanner, the former front woman for Calamity Jane. Now playing in Portland's "red-eyed, head-cold, junk-pop" band No. 2, fronted by Elliott Smith's former band mate, Neil Gust, Gilly has been a treasure of Portland for many years. Highly underrated, this girl can play and sing, and this song demonstrates that all to well. "Outta Money" is catchy and will beat around in your head until your next fix, so listen to this one with caution, for it will be in your head from then on (this is good, by the way).

Let's not forget Crackerbash, a true indie punk band that, when Seattle and Portland were all the rage, turned their backs on all major label offers and stayed true to their roots and ideals. A fucked up version (the lyrics differ drastically) for anyone that's heard the studio cut on TIN TOY (Empty Records), but still a good taste of what this band is all about.

Beyond that though, other amazing bands like Murder City Devils, Kristen Hersh, Dead Moon (legends!), Cat Power, and Bonfire Madigan all grace this compilation and make it one of the best live compilations ever released. I'll give it an A-.