Vegas Demilo
Before It Gets Old (Vegas Demilo)
By: Alex Steininger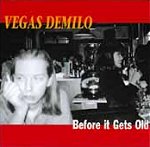 A five-piece from the San Francisco area, Vegas Demilo spits out the rock 'n' roll with clever hooks and sing-a-long lyrics that you can relate with. Playing with the addictive-ness of the best pop bands and the charge of a head-on rock act, the power-pop that Vegas Demilo dwells in is tasty and enjoyable to the last drop.

Opening with "Count Me Out," the band quickly grabs your attention and gives you a favorable impression of the rest of the disc. Usually it takes me a while, maybe four or five songs, to get into a band. Then there are those bands that take several listens to get into. Of course, then there are the bands that I can never comprehend and thus don't get into at all. But very rarely are there any bands, that I've never heard of previously, that are able to draw my attention from the opening chords. Yet, this charged pop ditty did it for me. And when track two hit, I knew it wasn't a fluke.

"Chemical Girl" came on and within ten seconds they had my directly focused on the song. The hooks are plenty, the emotional pull is alive, and the energy keeps coming from every angle. Clear vocals with a slight spice of both anger and regret soup up the song, while the hammering rhythm section and the slicing guitars make sure the melody is also on your mind. With several stand out tracks, including the first two ("Count Me Out" and "Chemical Girl") it's hard to pick a 'favorite,' but this might just be it (definitely one of them).

Keeping the pop hooks coming, "Dusted" opens up with a riff that glows as it bounces around in your head and draws you in with its illustrious cry. Soon the rhythm section comes in and the song sparkles even more. And when the vocals begin, soft yet able to take charge, you'll be hooked. Not as revved up as the openers, its mellow vibe gives you a break before they amp up the guitars and let the power chords fly.

A drum solo starts everything off, then the twist of the guitar jabs you in the ribs, making "Lifer," dare I say it, another monstrous rock number that owes equal credit to its heavy pop foundation. Instead of sounding regretful or angry, the vocal variations found throughout this disc give each song a different flavor, and the flavor on this disc is an emotionally-tinted "fuck 'em" type of sound.

Then there is another one of my favorites, "My Brilliant Career," which deals with following your dreams and not letting anyone tell you where to go. With a chorus that rings true, and is universal in theme, "I know it's stupid and it's blind, chasing after something that I never will find" gives you the feeling that the music might just be reading your mind and putting a melody to your thoughts. Taking a more aggressive stance near the end, the lines "Everybody said you should have stayed in college, everybody said 'you're just gonna fail.' If you see any of my old friends, tell them all they can kiss my ass," the 'no-regrets-fuck 'em' attitude is alive and well, pushing the listener to learn from the song and follow their dreams.

Closing with "Postcard," a soft acoustic number reminisces on lost love. "You only slept with me once or twice, but you fucked me for a lifetime and now it's done" rings through the chorus with such painful regret and sorrow, you can't help but feel sorry for the person singing the song. Yet, you take comfort in the fact that others are fucking up on the love front too.

The band can make you sing along, they can make you have fun, and they can make you cry. They're good at bringing out emotions and getting their points across quite well. Catchy, melodic, and good on the lyrical front, this is a great pop record you'll love to indulge in. I'll give it an A.