First Grade Crush
It's Not You, It's Me (Jump Up! Records)
By: Alex Steininger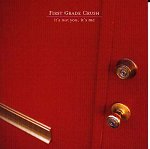 If their name doesn't do it for you, their combination of ska, punk, emo, and indie rock will. Packed full of excitement, their fast-paced ska music will hit you over the side of the head with some splitting punk rock, and then grab you by the heart with an emo touch. Undeniably fueled by a rock 'n' roll charge, the band is all energy.

From the opening notes of "So What If Some Guy Wants To Sit Around Naked In His Own Yard?" the band unleashes the punk rock energy and crazed humor that make them so fun to listen to. They quickly cut to the ska-emo sound, before ripping right back into the punk charge that always gets the listener going.

"Vertigo Man," "Big W," and "Fruit Bears" keep in line with the punk-goes-ska, and back again, rampage that runs wild on the disc. They'll grab you with a punk intro, crash into some ska-emo-rock beats, and then slam right back into some punk rock to get your blood pumping once again.

Then there is the other side of the band, like "Good Job, Chris," which focuses on the emo. The punk is still a vital part of the music, as is the ska, but the emo is the main concentrate as the band chooses to tone things down a bit and spit out heart-felt music, both through the vocals and the instruments. They still get up and rock, but aren't as fast and aggressive as the other tracks you'll find on the disc. And the guitar isn't as fuzzed out and amped up as normal; instead it flutters the notes rather than screaming them.

With a vast majority of the new, youth-lead ska bands coming out on the market sounding very much like the ground-breaking artists in their chooses genre spin-off, whether it be ska-punk or 2-Tone, First Grade Crush instead opts to go their own path with a bright mixture that is clearly their own. Though they borrow from ska-punk pioneers, they manage to twist their influences and mesh them into their own sound, so they don't sound like carbon copies. I'll give this album a B.