VARIOUS ARTISTS
Everything Off-Beat: Volume 2 (Jump Up! Records)
By: Alex Steininger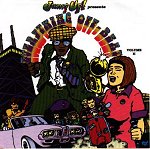 One of the Midwest's biggest ska and ska-influenced labels, Jump Up! Records has been around since the early 90's when it began with the popular AMERICAN SKATHIC compilation series. With the EVERYTHING OFF-BEAT compilation, Jump Up! Records kills two birds with one stone: Promoting their radio show of the same name, as well as bringing ska fans a disc with twenty-three new, growing, and old favorites in the ska-influenced genres.

Exclusive tracks from established bands like the Blue Meanies, Deal's Gone Bad, Executives, and the Adjusters find their way next to tracks from newcomers such as Goofs, Runforyerlife, Racecar, Shuttlecocks, as well as many more.

Starting off with one of their own, Runforyerlife, who just released their debut full-length on Jump Up! (see review this issue), the compilation takes a nice spin into some rocking ska with pop and jazz tendencies. Led by female vocals, the song's soulful feel and edgy style is able to get you to dance or sing along.

Greenhouse, another Jump Up! band, puts their 2-tone meets rock 'n' roll spin on "Jitterbug," a song, no matter who you are, you can't deny singing along to when it was ripping up the charts. As is usual with 'classics' like this, the band doesn't make the song better. Though, they do make an interesting case out of it, and it's good for some fun.

Always a treat, the Adjusters' bring some soul meets traditional ska to your ears with "Our Town '98." Harmonious female vocals handle the back up, while gusty male vocals lead the way. Plenty of feeling here as the band puts their hearts on their sleeves and croon out some golden ska/soul that is sure to warm up your heart and put an itch in your feet.

Shaking things up a bit, the ska-punk sounds of New Left Standard blazes out of your speakers with a danceable force that is aggressive and distorted to the max, but there is still some ska riffs mixed in there to keep the ska fans happy. Horns help add a bit of background texture, but it is the bass and drums that are the driving force behind the song. Your typical ska-punk, but hey, it's fun. Isn't that what counts?

Ending with the Blue Meanies, one of the most recognized bands on the ska-punk-whatever scene today, the band rides the ska and reggae influences the most, leaving their hardcore, jazz, and manic ability to jump from pounding rhythms to soft beats behind. Very relaxed, but with their trademark quirkiness, the song puts a nice end to the disc.

There is a lot of young talent on here, with some more established stuff to help boost the compilation, but the overall sound is very generic and underdeveloped. That's not to say there isn't anything worth listening to on here. Although there is nothing new or groundbreaking here, and the most of the stuff on here has now become standard issued ska, the bands do it with heart and soul, and that has to count for something. I'll give this disc a C.