Mashin' Potatoes
A Tribute to DEVO (Beat Happy! Music)
By: Alex Steininger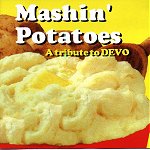 Devo took many kids and music fans by storm with their quirky, creative, and very influential style of music. Their legacy will live on for forever in the generations of people influenced by them. So, it is only fitting that a tribute album be released in their honor. Now, there are probably already a few out there, but there is always room for more when a great band like Devo is the subject of interest.

On MASHIN' POTATOES, Beat Happy! Music puts a ska/punk twist to the Devo classics. Such bands as Easy Big Fella, Skankin' Pickle, Critical Mass, One Eye Open, and Gangster Fun can be witnessed here paying their respects to their heroes.

However, like many tribute albums, the songs just don't live up to the originals. Listening to everyone interpret their favorites is nice to hear, especially if you're into both the band being covered and the band doing the covering. Here though, the bands just seem to butcher Devo and add nothing to the original feel of the songs (just detract from them).

Even a band as powerful as Skankin' Pickle, who wrote some amazing originals themselves, couldn't bring to speed their cover of "Gates of Steel." Their ska-tinted punk number has all the energy and drive of their regular cuts, but just doesn't seem to have their trademark stamp on it. Which, in the end, makes the song just another cover by another band.

With their hearts in the right place and the fact that doing a Devo tribute album was a great idea aside, this disc just doesn't live up to the reputation put forth by Devo. Maybe as a ska-punk compilation it may work better, but as a tribute, Devo fans can keep looking. I'll give it a C-.