Tevin Campbell
Tevin Campbell (Qwest/Warner Bros. Records)
By: Sylvia White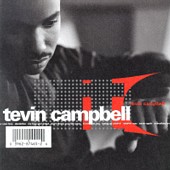 It has been all of three years since we last heard from this Quincy Jones protege. His last release entitled, "Back To The World" received a somewhat lackluster response from listeners and critics, though in my opinion it was a well-rounded album. With this new collection of sounds Tevin is stepping into a more mature arena and holding his ground musically. On this self-titled, twelve track album he has blended solid R&B, Latin, folk and Caribbean influence which ultimately comes up as a balanced product that reflects his growth as a musical artist.

On his first release off the album, "Another Way", we find a mid-to-up tempo track that rides along smoothly with strong jazz elements. In the song Tevin tells the story of how difficult life can be as a player. It's a smooth groove with descent lyrics. "Never Again" is an up tempo song that verges on the "lollipop" side but is saved by Tevin's rich tenor vocals. He effortlessly takes charge of this song and makes more out of it's sugary beats. "Since I Lost You" blends some of that aforementioned folk with R&B. It's a mellow tune that is reminiscent of his younger work such as "I'm Ready". I really like this tune. One of my favorite tunes off the entire album has got to be "For Your Love". I love this song for all of it's elements. Tevin hits his mature plateau when delivering this tune. He forces his robust yet tender tenor to sweet levels and harmonizes to make this song one of the better love songs. On this track more so than any other you hear how much Tevin is presenting his sound to the adult listening audience. It's melody, beat and instrumentation is simply beautiful without being overdone. Wonderful!

On "The Only One For Me" we get serenaded with strings and lush instrumentation. This ballad is simply beautiful and Tevin fulfills his part by giving us some really rich throat techniques. Another favorite! "Everything You Are" is a song that I can't seem to put my finger on. Here Tevin joins up with one of my favorite vocalists, Coko, formerly of SWV fame. I am a fan of both their talents but for some reason this song doesn't pull off their wanted effect. It leaves me rather empty and unaffected. Good song but something just ain't right. Maybe next time.

Next on the album we have the tranquilly lush "Dandelion". This track lends from those Caribbean and Latin elements that I mentioned. It is a mellow tune that is a sure winner for Tevin. "Losing All Control" is an up tempo track that is a guaranteed dance tune. It's a nice cut but Tevin's vocals get lost in the instrumentation and he doesn't seem to be fighting to stay above the tempo. "Don't Throw Your Life Away" is one of those inspirational songs that reminds me of Tevin and his very first song, "Tomorrow" except this time around his tenor is deeper and the harmonies are drowned in gospel hues. "Just Begun To Grow" is a lovely instrumental track whose subtlety is nicely placed. "Siemore Estaras En Mi (Dandelion) is another take on his prior track, "Dandelion" only this time we hear it in Spanish which by the way is nicely done on Tevin's part.

This album overall receives a balanced 5. Tevin Campbell is no longer that sweet little boy whom we watched grow before us. He now is a young man coming into his own style of music. He doesn't attempt to capture his audience with harsh beats or overdone melodies. He is approaching this album as he has done with all his priors, collected and matured. Tevin is a strong force even in his growing period. His tenor is one of the more beautiful out their in the R&B genre. He is an artist and will remain that way as long as he continues to bless us with his talent of being a young man finding ground his way. Nicely done Tevin! Pick up your copies today R&B listeners, you won't be disappointed.