INTERVIEW: Johny Vegas
Keith Calveric (vocals/guitar) (Johny Vegas' web site)
By: Alex Steininger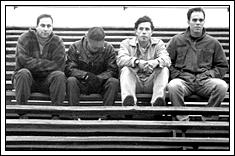 A pop quartet from Syracuse, New York, Johny Vegas just released a stellar pop album (FOREST HILL DRIVE) with all the trimmings. They've got fun and serious covered in ample supplies, wrapped around tight hooks and a driving rock force that propels them to the top of the current plethora of pop bands.

Alex: With 14,000 albums sold between two albums, you must have quite the local following?

Keith: Yeah, we do pretty well. We've got upstate New York covered.

Alex: What size venues are you playing in your home region?

Keith: Well, we usually pack around 300-500 seaters.

Alex: What kind of distribution do you have?

Keith: We don't have any distribution, per say. We do it all ourselves. Nearly all of the 14,000 records we've sold have been off the stage. We do have some minor-league distribution with Media-Play around here. All the Media-Play's in the Buffalo/Syracuse area stock our records. But, basically our record sales come from five years of humping them on the road. We'll have nights where we sell a lot, and nights where we only sell ten, but when you stretch that out to 150 shows a year, it adds up.

Alex: With your own record label and strong grassroots ethics, have major labels approached you guys with any seriousness?

Keith: I don't really know. We leave all that stuff to our management; they take care of all that for us. It's not really a major concern of ours, though. We're so wrapped up in touring and running our own record label that we don't have time to think of things like that. We're not even shopping our material around, we just do it ourselves.

Alex: Have you ever thought of signing other bands to your label?

Keith: We've been doing the record label exclusively with our own band for the past five years. Our resources are stretched pretty thin, so we really only have time and money to do Johny Vegas, but we have thought about it before. We're definitely considering it, and will think about it more in the future.

Alex: How has your music been received by college radio?

Keith: Well, we haven't started to really push the album at college radio yet. There will be a huge college radio push in the summer, or possibly the fall. We've done a few college radio interviews and been added in some key markets, though. But again, radio isn't a big concern for us now. We're just out there touring and spreading the word of the record, since its only been out a month now. But college radio is our next concern.

Alex: A lot of bands like to leave interpretation up to the listener, so why did you decide to include a description of each song in your press material?

Keith: It was a suggestion from our press company to kind of give people a chance to understand the songs a bit more so they could get into them more. But I think we left them vague enough as to not give away the entire song and still give the listener a chance to interpret them. But really, I don't really mind, it just makes the songs not such a mystery. It helps someone understand what was going through our heads when we wrote them. And it's not really public information, either, it's just for the press people so they could get into the songs and enjoy them more if they knew where we are coming from.

Alex: What are your band goals for 1999?

Keith: We're going to slowly build; it's going to be a slow process. Bands that shoot straight to the top usually fall of just as fast, so we want to take things very slow and work our way up from there. We've got a pretty solid fan base, so we'll always be here. So the best thing for us to do is take things slow and gain more grassroots following.

Alex: Any plans to do a national tour in support of FOREST HILL DRIVE?

Keith: Yeah, I'm sure the tour will continue throughout the summer and into the fall. Summer will be slower because there will be lots of outdoor shows and festivals like that, but in the fall, once we've begun to work college radio, we'll hit the markets where we're doing good in and then continue from there. We just took our first tripe out west to Colorado and it was pretty good, so I'm sure we'll do something like that again.

Alex: What do you enjoy and hate about the music industry?

Keith: I really enjoy performing. I like being able to let loose and play all night, give the people a good time and distract them for an hour or two. I like to give people a party and let them have lots of fun, so they can put aside all their worries and troubles and just kick band and have a great time. We're definitely a party band; we bring traveling parties along with us wherever we go. And the part I hate, I really hate all the roadwork. We drive around in a van for six to eight hours a day, so that part could be better, but you have to do it for the good stuff, so it all levels out.

Alex: If you could change anything as a band would you?

Keith: Jeez, I don't know. At some point I would like to have had a big shot record producer at our first gig who wanted to make us stars, but really all I want now is to see people get into the music. I'm pretty happy with things, so I wouldn't change anything.

Alex: What are the highest and lowest points the band has experienced so far?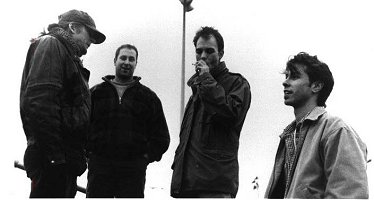 Keith: A high point would definitely have had to been playing the H.O.R.D.E. Festival last summer. We played some very big joints and met a lot of cool people. Chris Ford from the Black Crows came up to me and told me he thought we were pretty cool, so that was definitely a high point. It kind of legitimizes what you're doing when you a band you really enjoy comes up to you and tells you that you're cool. I mean, everybody thinks their band is cool, but to have peers say it, that really makes you feel like you are good. A low point would be between our 2nd and 3rd records. It was completely our faults, because we took a while to get our third record out. We spent a lot of time between those two albums, and kept telling fans that it was going to be out, and then we kept pushing back the date further and further. It was our original plan to release an album a year, but it took us nearly two years to get FOREST HILL DRIVE out after our 2nd album. That is normal time for major label bands, but we just want to keep playing, releasing music for the fans, and having fun.
Alex: What made you want to be in a band?
Keith: I have no idea. It was just always there for me. You know, as a kid I would play the air guitar with a yardstick, so music was just always there. But it was never a conscious thing.
Alex: What goes into good music making for you?
Keith: One of the biggest factors is taking your time with it and not just rushing to slap it together. You can throw a song together, but it takes time to get it right. There is a lot more that goes into the song than just writing it. You have to get the production right, and put it to tape the way you want it to sound. And these things can't be rushed. A lot of indie bands sound like just a lot of guitars and things like that, but it takes time to learn how to get the sound you want down.
Alex: What inspires you guys write your songs? Life?
Keith: Anything. Whatever happens that day. At least that is the way it is for me. Our guitar player, who writes a lot of the material, can just sit down and make himself write. But for me, I can't do that.
Alex: What do you want the listener to get out of your music?
Keith: I want them to have a good time listening to our record. I want it to sound like a whole album, one they can sit down and listen from start to finish and enjoy all the way through. I like to think of it like when I was younger, and there wasn't a single, it was just a Billy Joel album; no one song stood above the rest, it was a complete album. Hopefully, they'll put it in, and not want to take it out. I want it to be the soundtrack to your life.
Alex: Tell me about Music for the Needy?
Keith: It's a project we do most every year. We haven't done it this year, though. It's just a project to raise food and spread good tunes. It's already raised four tons of food for the needy.
Alex: Do you have distribution for it?
Keith: Nope, it's only available at shows. We also like to do a Music for the Needy tour in support of the album with another band on the record.