De La Hoya
Has No Credibility EP (Crap Records)
By: Alex Steininger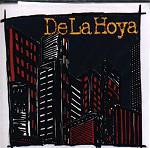 A hardcore band from Brooklyn, De La Hoya expand past the typical heavy hardcore sound and opt instead to fuel their brand with plenty of melodic fury. Fast, cutthroat punk rock, they leave plenty of room to slip in their melodic sense, which seems to come natural to them.

On their new EP, the band takes to the mic with some politics. "Class Act" blasts corporate America and the class division it feeds on. The guitars supply the hardcore, while the vocals lean towards a more melodic structure, which is backed up by the rhythm section. But, the band doesn't stop there. "Stars & Stripes" brings more melodic-hardcore your way as the band voices their opinions on our government, war, religion, and pledging allegiance to the flag.

The band takes a break from their politics to serve up a song about life on "Last Night Sucked." Fast and hard, much like the other tracks on this disc, the band blasts forward with one of the most intense songs on this disc, but, as usual, still leaves more to slip in their melodic urges.

Six songs, of which five are highly political, make this disc a very strong EP. They bash out the melodic hardcore with plenty of feeling and sincerity, giving the listener a piece of their mind, too. I'll give it a B-.