Good Riddance
Operation Phoenix (Fat Wreck Chords)
By: Alex Steininger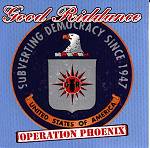 Fat Wreck Chord's pop-punk/hardcore act Good Riddance is back with their forth full-length on Fat Wreck Chords, and time has treated them good. Their pop-punk/hardcore sound is secure with lightning quick rhythms, striking guitars, and melodic shouts; the music has all the hooks and cleanness of a pop band, but don't let that fool you, the energy and intensity is pure hardcore.

Opening the album with a clip of a speech by Martin Luther King, Jr., the political objectives of this disc are clearly marked. Using a political drive, along with a spirited, fighting beat, the band sets out to make the listener take notice by delivering sharp notes coupled with strong lyrics; and they do this with no problem. "Shadows of Defeat" and "Heresy, Hypocrisy, and Revenge" both cruise along with a razor sharp, melodic base pushed forward by hardcore tactics, making sure their message is being delivered deep into your head so you'll take notice.

But the band isn't 100% political; they allow some time for songs about broken relationships, and failure of love, which is the case with "Letters Home" and "Dear Cammi." The first one is a straight-ahead pop-punk number that will have you bouncing off walls like you're on a sugar high, while "Dear Cammi" is infused with their breed of hardcore and pop-punk, giving you a chance to just let go, not have to think about anything political, and just dive right in and enjoy yourself.

"Winning The Hearts and Minds" starts out with a thirty-second spoken word bit that sets you up for a highly political number sure to jab you in the side and make you take notice. Of course, if you don't, the band will make you once again when the music rips into some fierce hardcore and starts to tear you to shreds.

Good Riddance avoids the standard pop-punk plague that has struck California by delivering their style with ample hardcore and a strong political message with meaning and intent. And for that, you'll enjoy them. I'll give this album a B.