Groovie Ghoulies
Fun in the Dark (Lookout Records)
By: Alex Steininger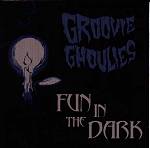 Hard working, constantly touring pop-punk charmers, Groovie Ghoulies crank out the "fun in the dark" with their happy-go-lucky pop sound and the punk mayhem they're capable of. On their latest Lookout release, the band doesn't lose a step, as they pour out the fun track after track without looking back.

Easily one of the most infectious pop-punk bands out there today, almost capable of the infection the Ramones are so famous for, the band quickly has you in awe on the opening track, "Carly Simon." This pop go-getter has the growl and bite of the punk guitar and rhythm section, but pop takes the drivers seat and keeps them moving throughout.

Of course, this isn't a one-shot to the heart. The band follows-up an almost unbeatable pop-punk ditty like "Carly Simon" with twelve more, including "She Gets All The Girls," Vampire Girl," "Lonely Planet Boy," "Laugh At Me." These guys just don't let go, as they strive to be catchier and stronger track to track, often successfully completing this goal.

If you're looking for some clever, sharp, and witty pop-punk that is both exciting and fun, than the Groovie Ghoulies are the band for you. They'll make you bop, dance, and shake, while giving you a friendly fright here and there to keep things interesting. The band never loses the pop drive that warms up the disc, and the punk is always present, making them a very consistent band almost always guaranteed to crank out some loveable melodies. I'll give this album an A.