H2O
F.T.T.W (Epitaph)
By: Alex Steininger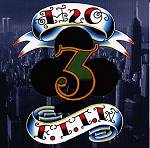 One of New York's finest hardcore outfits, H2O, is back with another blast of hardcore fury sure to put you in your place. The songs are fast, furious, and sometimes angry, but with enough melodic sense added to the songs, they're easy to swallow and even easier to enjoy.

"Faster Than The World," the opening track, quickly establishes this record as both a powerful piece and something full of good melody. Hardcore's good and powerful, but when they can hook you in and make you want to sing along, it's that much better. And that's exactly what H2O does; they get you to sing along throughout their hard-charged, fast-paced beats as well the times when they drop things down a level to draw you in even more before jumping you back up into the spirited hardcore they're all about.

But it doesn't stop there. "Guilty By Association" is another powerful number that dances around in your head and makes you sing along, all the while the fierce, aggressive nature of the song is blaring out of your speakers. They have you slamming during the verses and singing along during the choruses.

Then there are the times when they let it all go and just knock you on your ass with some quick-footed hardcore, like on "Can I Overcome" and "On Your Feet." The band doesn't hold back any punches as they give it all to you in extra-strength dosage.

Their music isn't anywhere close to party punk, as you may have come to know by the over saturation of pop-punk on the market, and songs like "EZ. 2. B. Anti.," "Reputation Calls," and "Liberate" prove it. These guys can knock your socks off with startling hardcore, or allow you to let loose with some melodic hardcore, but no matter the sound is like, there is always going to be some lyrical content to pay attention too. And that is why they're one of the best hardcore bands out there today.

H2O does melodic hardcore as well as anyone, and is probably one of the best at what they do. They'll tell you how it is, give you their voice, and let you create your own. This is punk rock music to the core; I'll give it an A-.