Julian Coryell
Bitter to Sweet (Mojo Records)
By: Alex Steininger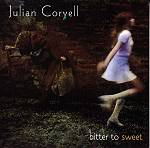 The son of jazz great Larry Coryell, Julian Coryell is coming into his own with his intricate, emotionally charged pop sound. Strong lyrics fused with tight pop hooks and a dark take on life all help propel the album into a familiar category, while also shaping its own sound.

"Let Me Fall" is musically light and powerful, while Julian's voice adds a dark sentiment to the overall tone of the disc; gruff and gusty, while also maintaining a soothing edge, he is capable of speaking to you right in the heart.

"Cheat," on the other hand, echo's a more pop-rock foundation, compared to the delicate pop that the opener indulges in. Filled with hooks and a more up-tempo beat, Julian has you bouncing up and down. But don't worry, none of the feeling or emotions that run through his songs are gone, they're just placed next to the driving pop hooks, which makes them easier to bite down into and enjoy.

"Amnesia" is yet another very distinct number for Julian. Playing around with 60's am pop radio sounds, he seems to fit right in with his ambitious bounce and glowing hooks. If you were to hear this song on its own, you would swear it was a vintage pop classic. But, of course, it is not. It's a modern number that is so well written it strikes the same chords with you that am radio did back in the day.

"You Couldn't Leave Me If You Tried" just keeps 'em coming. This rocker is yet another blissful pop number that is so well crafted, and tightly structured, you can't tell if it is meant to be played on current modern rock radio or next to stations that are still spinning The Beatles.

If you've never heard of Julian Coryell, believe me, you will. This album will find him confusing angst-ridden, power-chord driven rockers, while entertaining people looking for more solid pop acts to take them back to the days when pop radio was the champion. I'll give this album an A.