The Ernies
Meson Ray (Mojo Records)
By: Alex Steininger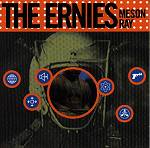 Heavy-hitting, hard-rocking, hip-hop influenced hard rock that you can dance too? You don't hear about this every day, but Richmond, Virginia's The Ernies seem to have captured the attitude all-too-well. On their major-label debut, they craft heavy rock riffs with scratching and sampling to shake things up, while trying to leave all in suspense.

When I first put the disc in I thought they were another Korn-influenced band wanting to rock hard and loud, while also trying to merge in some hip-hop influences they had. So I quickly wrote them off. But then I gave the album another chance, as I do to any album, and this time they started to catch my attention. The album was filled with so much intensity, so much energy, I couldn't help but focus my attention to hear what was really going on. And it was then I began to get them and take notice.

"Here & Now" fuses hip-hop words with a brutal assault of guitars and a splitting rhythm section. Then they slip into a melodic whirlpool as the chorus hits, before ripping right back into some hop-metal mayhem.

"Bacteria" dives even deeper into their hip-hop world, without ever losing a step with their hard rock alter ego, while "Winter Stars (You & I)" captures a more melodic sense to the band. "Organism" is another stand out track, which shows the band tipping their hat to Korn.

Aggressive, loud, with enough dance grooves to go around, The Ernies jump around a lot without really changing their style all that much. Sometimes the album gets repetitive, but with the rock solid power running through the album, you probably won't even notice. I'll give this a B.