The Ghost Rockets
The Spatula Ranch Sessions Volume 1 (Pop the Balloon)
By: Alex Steininger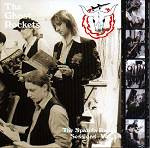 Mixing pop hooks with a country take on life, Hoboken, New Jersey's The Ghost Rockets take country to a new level. On their debut EP, the band dances away at their instruments, giving the listener one hell of a time.

The band's pop talents are quickly reached on "Goodbye to Greatness," which packs a highly infectious chorus next to some sing-along good times. The song will have you smiling once it picks up, and singing along from there.

But the band isn't all pop, they can also write country really well, too. "Roses (To You)" shows the band in full-force; while the slide guitar sneaks up on you and plays around with your reflexes, the rest of the band keeps on truckin' with some sly notes and a hot rhythm section to back up the grooves.

"Make Believe In You" once again shows the band playing around with some pop. As the country blood flows through their pop hooks, you are provided with a bouncy number perfect to dance or sing along with. They'll catch you with the hooks that appear all through the song, and you'll never regret it, either.

If you are looking for some modern country hooks that pays homage to both the pop and country greats of the past, while also creating its own style to dazzle listeners with, you've just found it. Consider yourself advised; I'll give it a B.