PUYA
Fundamental (MCA Records)
By: Alex Steininger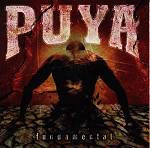 To avoid the tiresome overflow of metal bands, PUYA decided to stretch beyond what has already been done and created a clever mixture of Latin beats and Metal. You may call it rock en Espanol, South American metal, or plain old metal/hard rock. But whatever you call it, the Latin influence plays a big part in shaping the sound.

The metal portion of the band sounds stereotypical; it's already been done to death, over and over again, yet people keep doing it. However, the horns they add in the music are a nice touch, and the Latin influences definitely help them escape every pigeonhole they otherwise would have found themselves in. But that doesn't change the fact that the metal is your run-of-the-mill mixture of screaming, loud guitars, and a crushing rhythm section that drives the music (I'll give them credit, the rhythm section is quite good at what they do).

But, when all is said and done, they're a metal band. As such, I never really got into the disc. It had its moments, especially when the horns and Latin grooves were in full effect, which was always a nice relief (and treat), but the rest of it could, and should be, forgotten. I'll give the album a C-.