Shallow
Jumping Away From Something Exploding (Devil in the Woods)
By: Alex Steininger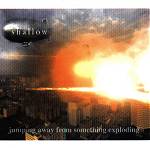 Fuzzy indie-pop fronted by female vocalist Julie Shields, Lawrence, Kansas' Shallow plays around with sounds and instruments to come up with a playful, enjoyable sound. With five new songs and four live tracks, the band has decided to take a break from their recording schedule to deliver fans more material.

The title track, "So Sentimental," and "Where the Evening Went," three of the five new tracks, are all delicious pop treats. Julie's voice has the innocence and carefree nature of a child, but with the experience and sorrow of a mid-twenties rocker. Her voice brings each song to life regardless if the instruments are soft and allowing for her to sing softly over them or if they're full of fuzz and flying all over the place; it is her voice that makes the songs.

The five new studio songs are nice, but what brings this album down is three of the four live tracks, which are an average of eight minutes long. And my friends, eight minutes is too long for any song to fuzz and flounder along.

If you were to look at this as just a five song EP (possibly six with one live song), it would be nice. But, as a nine-track album, it is too long and drawn out. After "Missile Command," the first live track, it's not even worth going on and listening. I'll give this album a C+.