Ten Story Love
Ten Story Love (Self-Released)
By: Alex Steininger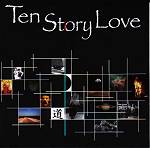 There's nothing I love more than solid pop songs. OK, there is, and that is solid pop songs about life and all the frustrations that surround it. And guess what? Boston's four-piece act Ten Story Love plays exactly that. Tight and efficient, these guys pack a punch in a sugary way.

Who can't relate to the line "She's the perfect girl, and she's not mine"? If you can't, well, go shoot yourself, because you're bringing me down. But if you can, Ten Story Love's "The Perfect Girl," the opening track to their self-titled debut, is as bouncy, fun number that reflects all the emotions that go through your head every time you meet 'the perfect girl' that you'll never have.

The thing is, the band just doesn't stop there. They keep the hits coming, back to back, without any down time in between. "Go Fish," "It Happens Every Time," and "This Island Earth" all serve up delicious pop nuggets that are a blast to listen to and just as fun to dance with. The band just seems so at ease writing tight pop songs about life as they, and we all, know it.

Never stale, and always fun, this back keeps things lively from track one to track thirteen. I'll give this album a B.