Track One AB
Reverie (Royalty Records)
By: Alex Steininger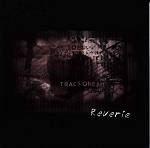 Long Island, New York's Track One AB fuse modern rock with mass amounts of pop to come up with their strong-willed sound. One minute they'll have you sitting there enjoying the force of the guitars, and the next you'll be swept away by some soothing pop charm.

Opening with the title track, the band quickly gets the song swirling around in your head. With a twinkling pop ditty that is filled with cloudy vocals and star bright guitars, not to mention some loops and a bouncy rhythm section, the band quickly grabs you with the song that will keep you listening.

Then on "Hungry" the band shows their rock and roll side, allowing the guitars to take center stage, while the bit more tense vocals spit out the words with a harsher edge. The pop is still there, mind you, but definitely leans towards the rock side of things.

And, much like a roller coaster, the band keeps you going up and down, by shifting between rock and pop numbers. Like "Stream Train," which mixes the energy of a wild 70's rock anthem with plenty of pop to make it easier to swallow. Then on "Talk On," the band really shakes things up with a funky, Latin-inspired rock number that moves along with a metal bite, but a modern rock flavor.

There is enough diversity in this disc to make it a mainstay in your CD player for some time. The pop shines, while the modern rock aspirations sometimes weigh things down. But, don't worry, the pop usually shows its face most often. I'll give this a B.