Vigilantes Of Love
To The Roof of the Sky (Meat Market Music)
By: Alex Steininger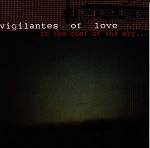 One thing can be said about Athens, GA's Vigilantes of Love, they're honest, straight-to-the-heart music that will make you both feel and think about what you're hearing. Playing a roots-rock combo, with aspects of country, folk, and pop mixed in, the band exposes their emotions throughout the sixty-six minutes of music on this disc.

From the garage-rock/folk jangle of "But Not for Long" to the hook-filled "Run Through My Veins," the band has no problem reaching their audiences. The title track, which offers up a pedal steel able to mend your broken heart, opens up your emotional vault while helping to soothe your troubles as well. As the band gently sways through this number, and the laid-back vocals tell the tale that leads the way, you can't help but warm up to the notion that there are others out there suffering too, which gives you hope for the future.

It is the rock, though, that drives this record. "Doin' Time," with ample amount of pop, shows the band rocking out and having a good time, while crafting clever, strong folk-rock that hits you right in the heart; while you listen you can't help but sit there feeling every hook, word, and note the band throws at you.

The acoustic feel of "This Time Isn't One of Them," with a country-tingle and the laid-back feel of folk, proves the band is a multi-capable band that can open doors and travel paths as they choose. The song is strong, if not stronger, than their rock material, and captures the optimistic, yet dark message of the band.

If you're in search of some very strong rock music that travels down country, folk, and pop roads, this might just be the release for you. Frontman Bill Mallonee has a knack for wearing his heart on his sleeve, and it greatly benefits the band. Here is a disc you'll listen to several times and never get tired of; I'll give it an A.