Art of Noise
The Seduction of Claude Debussy (ZTT Records/Universal)
By: Alex Steininger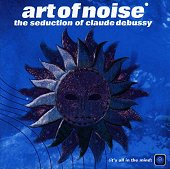 The first Art of Noise album in nine years, and the first to feature all three founding members since 1985, THE SEDUCTION OF CLAUDE DEBUSSY is a brilliant trip through technology, pop, dance, electronica, and futuristic realism. Or, you could simply describe the album in one word, seductive.

From the opening of "Il Pleure [at the Turn of the Century]," and the enchanting keyboards that fill the air, you can't help but be taken away into a parallel universe where everything is so exquisite and beautiful. Then, the narrator comes on. If you close your eyes and just let his voice and the music fill the air, its vibrant flavor will take control of you and whisk you away to another realm where everything feels so peaceful and all you can see is beauty around you.

"Born on a Sunday," "On Being Blue," and "Metaforce" all follow up the opening track with more electronica/drum 'n' bass beats to make you sit back and relax. Rapper Rakim even visits tracks such as "Rapt: In the Evening Air" and "Metaforce," adding a hip-hop feel to the music.

If you're looking for an album you can dance too, sit back and relax, or just close your eyes and feel, this is the album for you. Every punch, kick, and note that pours from your stereo will run wild in your body and caress your soul. Here is a beauty if I ever heard one. I'll give it an A.