Afterlife
A New Beginning (Afterlife's Webpage)
By: Alex Steininger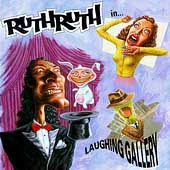 In 1995 a trio from New York by the name of Ruth Ruth started to heat up on rock radio with their insanely catchy power-pop sound. "Uninvited," although receiving minimal play from MTV (basically late at night on the show that features tomorrows hit makers before they're multi-platinum, 120 Minutes), started to rapidly climb at "alternative" radio. The band quickly hit the road to tour in support of their debut, LAUGHING GALLERY, landing tours with No Doubt, Everclear, and Spacehog.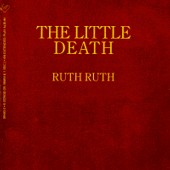 Troubles began to arise with their record label, American Recordings, though. So, through special arrangements with American, Ruth Ruth found their second album, THE LITTLE DEATH EP, released on the pop-punk mega-indie Epitaph. Produced by owner Brett Gurewitz and Ruth Ruth frontman Chris Kennedy, the album showed the band diversifying, but also helped seal the bash-it-out punk drive the band nestled their pop gems in, a sound the band found they really wanted to get away from.
So, when tensions between Kennedy and drummer Dave Snyder hit their peak, Kennedy kicked Snyder out of the band. Not wanting to let a good thing die, Kennedy and guitarist Mike Lustig started auditioning and looking for a new drummer. There was still the matter of finding a new label as well, since the band was heading in a new direction too far removed from the punk happenings of Epitaph, and the conflicts between American and the band had sealed the fact that Ruth Ruth would not release another album with them.
The new beginning was starting to emerge for the band. With a new label in RCA Records, Christian Nakata behind the kit, and a second guitarist, Michael Kotch, added to the mix, the band began work on their next album. The outcome was 1998's ARE YOU MY FRIEND?, an album that still had some of the power-pop intensity of old, but was also a very different album that showed that this was not the same band of only three years ago.
Beautiful pop melodies filled the album from top to bottom as the band focused on writing striking pop songs with deep emotions and feelings rather than bashing out a teen angst song with all the punk trimmings. But, the backlash had begun.
With any drastic change in your sound or any new direction a band decides to take, there will always be those fans who want to hold on to the old and reject the new. And, even though Ruth Ruth still had a few trademark numbers, their decision to redirect their energy into better rounded pop was frowned upon by people who wanted to hear LAUGHING GALLERY 2.
The expectations of 1995's "Uninvited," in which the majority of people who knew of Ruth Ruth were exposed through, were still alive and well. People thought of the band as a pop-punk entity and not a group with the talent and desire to avoid that cliche and just write good music, regardless of class, label, or style.
"We got some backlash for ARE YOU MY FRIEND? because we were heading off in a new direction and trying to fight off the pop-punk comparisons. I think if you weren't alternative like Pearl Jam everyone called you pop-punk like Green Day. And it's those kind of comparisons we want to avoid," says Kennedy on the band's decision to start anew. And by starting anew I mean letting Ruth Ruth rest in their past and creating an all new band. The new band is Afterlife.
After a few good years as Ruth Ruth, Chris Kennedy and company have decided to let it go and start a new band. Afterlife will reflect the band's change in direction while embracing it even more. With a new band name they're free to explore and write whatever they're feeling without the stigma of being Ruth Ruth. But, some may perceive it as just a name change to better market them in the future rather than a new band.
"It's more than a name change. The four will continue and we may add a 5th member. The new band is different in sound and approach. Everything is different. We're moving away from the punk that got carried over from LAUGHING GALLERY," Kennedy explains on the reasons for the name change.
A fifth member you ask? They've already got a bassist, two guitars, and a drummer, what more could they need? "A bassist. We might add a bassist to take over for me," Kennedy says on the thought of adding a fifth member. "I've tried to concentrate on vocals before and just quit playing bass and it makes the band mad. We're all in agreement about it, so we're talking to a few people."
With all these changes coming down for Afterlife, the sound must be something very different to warrant all this. "It's more rock. No punk. We're doing all of this to reflect the change. There's no attachments to Ruth Ruth, we're a new band."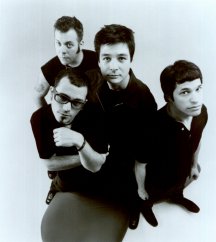 But, after releasing ARE YOU MY FRIEND? to high expectations, and then watching them fall flat as touring to support the record stopped due to an injury in the band, a major label, who have a reputation for dropping bands after their expectations are not met on debut albums, might be ready to throw in the towel and let Afterlife start their new life someplace else. But that is not the case at all. Ruth Ruth never stayed on a label for more than one album, but it is truly a new beginning, and the first sign of that is RCA's acceptance, and approval, of Afterlife.
"RCA is totally for it. They think we're more than what they ever thought we were. The decision to start new came from the band; it came from the right end. And once they heard the new material, they were into it," explains Kennedy. "We've demo'd about thirty songs and are delivering new ones daily to the label."
"[Afterlife] is also a big change in the work ethics for the band. In the past I would control everything. I'd bring in tapes demo'd and finished and then the band would have to learn the songs from that and play what I did. I got tired of that. Now, I still write the songs and bring them into the band, but I only play them on guitar and they add their own parts from that. [Afterlife] is much more of a band sound. It's more high impact and will reflect the whole band, not just me anymore," furthers Kennedy on the writing and recording of material for the new album.
One thing that might still see fans' expectations attached to the new band is if promoters use the "formerly Ruth Ruth" tag in promoting the band's live shows. Otherwise, starting from scratch and touring as an unknown band, it can be hard to develop a following.
"I talked to Mike [Lustig, guitar] about that recently. We're going to try and avoid it, but you just can't help it. If they do it, it can only help in areas that we have a good draw. And, well, that can't really hurt. But, if people come for Ruth Ruth, it will be a different thing," Kennedy says.
Which leaves you wondering, if this is the same band with a new name, as well as a re-birth and new direction, will they still attach themselves to Ruth Ruth in the faintest by giving in to hungry fans who want to hear some of the Ruth Ruth gems live?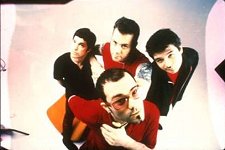 "Tomorrow [July 9, 1999] is our last show as Ruth Ruth. We'll do old material. And, in the future, we might add a few Ruth Ruth songs to the set. We'll probably always be the #1 Ruth Ruth cover band in the world," jokes Kennedy. "After tomorrow, though, we'll be playing the new songs and working on material off our new record. We're a new band, so we'll want to play our new songs."
And, the possibility of turning old Ruth Ruth songs into Afterlife ones?
"I wouldn't rule out re-recording old material as Afterlife, but that probably won't happen. The new album will be all new material," says Kennedy. "Expect the new album out around the New Year."